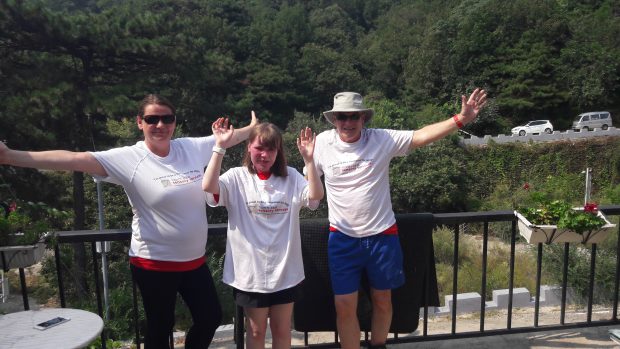 A north-east trio are celebrating after successfully trekking across the Great Wall of China.
As you might expect, it was a gruelling challenge, but the group raised a significant amount for a charity for those with visual and hearing impairments.
Deborah Benzie, Ashleigh McPherson and Gordon Edwards spent seven days walking on the iconic landmark as part of a fundraising challenge for North-East Sensory Services (NESS) – a cause which is close to all their hearts.
The inspirational trio trained for months before embarking on their mission, which saw them climb heights of up to 2,500ft and took them through rural villages and historic settlements.
In order to raise vital funds for NESS, they walked between five to eight hours and climbed up to 17,000 steps a day during their time on the world-famous monument.
Miss McPherson, an animal care student at SRUC Craibstone, used NESS services when she was younger and now volunteers at the charity in her spare time.
The 19-year-old was inspired to get involved with the trek after hearing of Miss Benzie's plans when the NESS café coordinator was looking for a means of fundraising with her colleagues and customers.
Miss McPherson said: "After many years of using NESS services when I was younger, I experienced first hand all the incredible support, services and equipment provided by the charity.
"NESS helps people with a sensory impairment achieve greater independence and it's because of NESS that I have the confidence to set myself crazy challenges, like trekking along the Great Wall of China.
"I am now dedicated to fundraising for NESS, a charity which has helped me to develop my own independence, despite my sight loss.
"To raise money for the trek, I organised a wide range of events, which appealed to people of all ages and I am just so pleased with what we all managed to achieve.
"The whole experience was absolutely amazing and has provided me with memories that will last a lifetime."
Miss Benzie added that service users had been "incredibly supportive" of the effort, which took a lot of org
She said: "All the hard work was so worth it, as we managed to raise a great amount of money for an extremely worthy cause.
"From buying my home-made fudge to coming along to events in the café, NESS staff and service users have been incredibly supportive of all of our fundraising efforts.
The 49-year-old added: "Nothing can prepare you for the full intensity of the wall, but we all did a brilliant job and I'm extremely proud of our efforts.
"I'm really fortunate to have had the chance to go to China and to raise money for a cause which means so much to me."