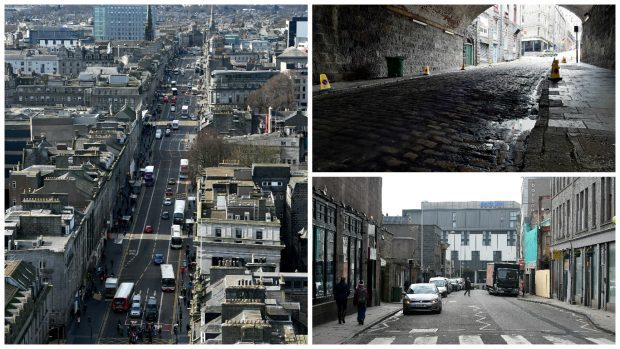 Police are being urged to step up patrols in certain parts of Aberdeen city centre to cut the number of assaults and sex attacks.
A new document has revealed the areas of the city where most incidents happen.
Maps detailing where serious assaults, common assaults and sexual offences have happened have been drawn up, and although Union Street is an obvious commonality, the data shows other trouble spots.
Between April 1 2013 and August 31 this year, police have recorded 2,816 instances of common assault, 197 serious assaults and 164 sex offences in the city centre.
According to the report, serious assaults are most likely to occur in the Windmill Brae, Chapel Street, Little Chapel Street, Langstane Place and Correction Wynd areas.
And the areas where common assaults were the most frequent mirrored the more serious crimes.
On Windmill Brae alone there were at least 80 incidents, with more than 100 on surrounding streets.
At least 40 occurred on Little Chapel Street, with further reports of more than 40 also taking place on the nearby Chapel Street.
Common assaults also regularly take place on Langstane Place, particularly near its junction with Bon Accord Street.
In addition, more than 110 common assaults were catalogued on Belmont Street, while more than 120 people were victims in incidents in the Back Wynd and Correction Wynd areas.
A large number of similar incidents were also attended by officers in and around the Merchant Quarter area, on roads such Market Street, Hadden Street and Exchange Street.
Last night Councillor Martin Greig, chairman of the Aberdeen Community Safety Partnership said: "It is clear that more police should be deployed in these hotspot areas.
"An increased officer presence is needed to make a difference in protecting potential victims.
"I also want to see further action that will back up the police."
He also suggested better street lighting should be considered to increase safety.
Sexual offences were far fewer in number compared to assaults, but a high volume of the incidents took place in similar areas.
Over the course of the reporting period nine sex attacks took place on or close to Langstane Place, six on or close to Windmill Brae, and three in the Little Chapel Street area.
Liam Kerr, Scottish Conservative MSP for the North East said: "This document paints a worrying picture of Aberdeen's nightlife and the clear dangers to the public in certain areas.
"It is perhaps not surprising that the trouble spots are the same areas where we have a high concentration of pubs and clubs.
"I know a lot of effort has gone in from various agencies to improve safety in the city centre in recent years, and that successful partnership working has to continue.
"However, if there are specific areas where people are more likely to be attacked, then the force should be considering special patrols or targeting additional resources where possible."
Kevin Stewart, Aberdeen Central SNP MSP, praised the work the police already do and highlighted the fact that Aberdeen is the only city in Scotland to have purple flag accreditation for its efforts to promote a safe and secure environment at night.
But he added: "We must remain vigilant in the efforts to keep folks safe.
"It is distressing to read that so many attacks have taken place close to areas of high population and footfall, but this kind of data and information can inform decision making to tackle antisocial and abusive behaviours from abhorrent individuals. I will be contacting Police Scotland to ask what is being done in light of these statistics and if patrols can be targeted to try and stop assaults and catch those looking to start trouble."
Council leader Jenny Laing said: "We continue to invest heavily to improve the safety of our city centre. Measures such as the introduction of transport marshals, improved street lighting and changes to bus and taxi ranks have all been introduced to help improve safety and people's experience whilst in the city centre."
The police declined to comment until the report has been discussed bythe licensing board today.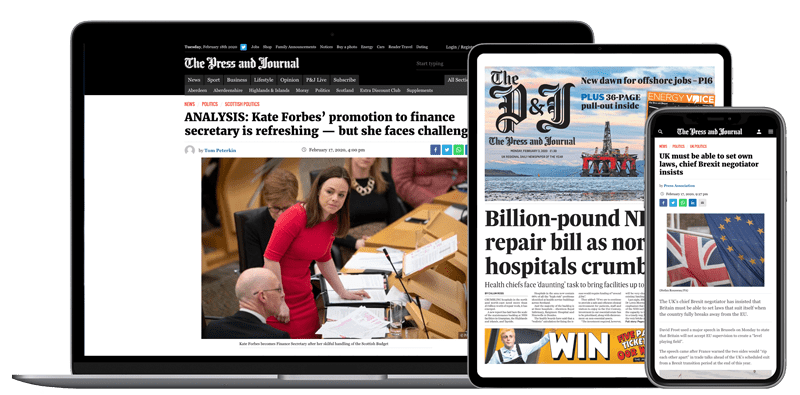 Help support quality local journalism … become a digital subscriber to The Press and Journal
For as little as £5.99 a month you can access all of our content, including Premium articles.
Subscribe