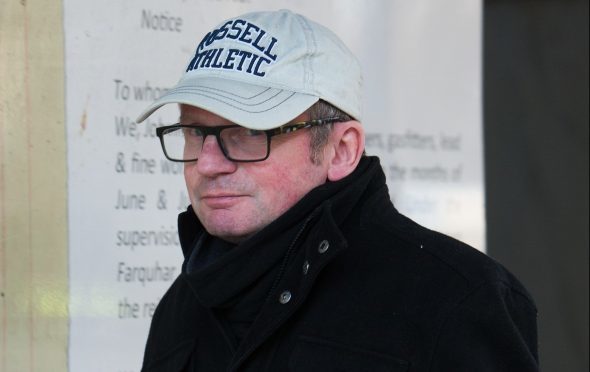 An Aberdeen security guard has been ordered to hand over his car after getting behind the wheel while more than seven times the drink-drive limit.
Peter Aitken had been in the pub for just over an hour before he decided to drive home.
He crashed into a fence just a few feet from his home in Cove, and was found by paramedics slumped over the wheel.
They removed him from the car but could smell alcohol and contacted the police.
The 52-year-old was taken to hospital, where a breath test revealed he had 167 microgrammes of alcohol in 100 millilitres of breath. The legal limit is 22mcg.
Yesterday the father-of-two appeared at Aberdeen Sheriff Court for sentencing, having previously admitted the offence.
The court heard the incident happened at about 7.40pm on October 30, at Lochinch Park.
Representing the first offender, solicitor advocate Gail Goodfellow, said her client had been working a long shift that day.
She said he decided to go to a pub close to his work when he finished at 6.30pm instead of going home.
Mrs Goodfellow said: "His intention was to have one drink and go home.
"Unfortunately he had a great deal more than that."
The court heard Aitken had been so drunk that he had "little recollection" of the crash.
Mrs Goodfellow said: "He recognises he is fortunate himself and others were not seriously injured."
The solicitor advocate told Sheriff Alison Stirling that the car, a grey Hyundai I10 Classic, had originally been bought for £6,157.
It had been purchased by Aitken for his 20-year-old son, who has Aspergers and was finding it difficult to learn to drive.
She said the family were struggling for money and had spent around £34,000 of his pension from his previous job as a BT engineer.
Mrs Goodfellow urged Sheriff Stirling to consider allowing the family to keep the car.
But the sheriff said due to the "exceptionally high reading" the only other alternative to forfeiture of the vehicle would be custody.
She said that given his lack of previous convictions she would be willing to spare him jail.
The sheriff banned Aitken, of Lochinch Park, Cove, from the roads for 40 months and ordered for his car to be confiscated.
Last night, Neil Greig, policy and research director at the motoring safety charity IAM Roadsmart, said he feared the courts did not have enough power to deal with offenders who "greatly" exceed the drink drive limit.
He said: "What seems to be happening in Scotland at the moment is that people at the lower alcohol limit are just now getting the message, but people like this who are ignoring the limit by seven and a half times are the ones that cause most of the
crashes and most of the mayhem around drinking and driving.
"But the courts actually have very few options to deal with it.
"It's either a ban, jail, or in this case taking the car away."