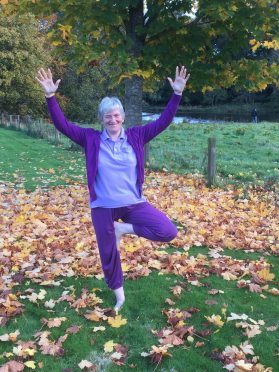 A north-east yoga teacher will be swapping her studio for the exotic surroundings of the world's tallest mountain ranges.
Moira Donald, from Aberdeen, will be braving the high altitude of the Sindhupalchok district of Nepal, one of the worst-hit areas by last year's devastating earthquake.
She is among eight people who will be staying in Sangachok village in innovative quake-proof "earthbag" accommodation.
The structures can withstand huge tremors and can also be quickly built.
The group will be in Nepal for 16 nights and, while there, Mrs Donald will also carry out yoga lessons.
The trip has been organised by First Steps Himalaya, which was established by Fionna Heiton, a former Aberdeen teacher, and her Nepali partner, Durga Aran.
First Steps, set up in 2008, aims to improve the education available to young children in rural villages.
Last night, Mrs Donald, who will be making her second trip to the Asian country, said it was difficult to describe the experience of being in such "spectacular" surroundings.
As well as teaching yoga, Mrs Donald and her fellow travellers will also trek for four days through the mountains.
She said: "The journey is a fantastic way to combine yoga with travelling in Nepal.
"The trek is manageable if you take your time but everyone's different.
"The scenery is absolutely spectacular, until you go yourself it's difficult to describe, you can't really prepare yourself for it.
"The people you encounter are all so friendly as well."
On April 25 last year, a massive earthquake shook Nepal, killing 9,000 people.
The huge magnitude – 7.8 earthquake also injured 22,000 people.
Since then, First Steps has been rebuilding classrooms and teacher accommodation using earthbags.
Mrs Donald's group, whose travel has been organised by Beyond the Clouds, will visit a number of education projects run by the charity.
And it's speaking to the local people who benefit from the charity's work that Mrs Donald says is particularly rewarding.
"I think it's really important for everyone to get an education, and in Nepal they really appreciate getting one," she said.
"The children are so keen to get to school and learn and I feel that we should help them.
"The better their education then the better the country will be in the future."
The group, who will set off in March, will practice yoga throughout their journey, which takes them on a trek through the Annapurna Range and a stay in the lakeside town of Pokhara.
They will then head on a jungle safari in Chitwan National Park before returning to Kathmandu.
The group is looking for more people to join their expedition, for more information, visit beyondtheclouds.org.nz