A man found guilty of committing a "brutal" and "motiveless" murder in Aberdeen has launched a bid to clear his name.
Cameron Laurie, 31, and Ryan Gibb were jailed for a total of 36 years at the High Court in Edinburgh in July for killing James Chadwick at his home in Holland Street last year.
Laurie, who received an 18-year jail term, has now launched an appeal against his conviction.
It will be heard at the Court of Criminal Appeal in Edinburgh on Friday.
During the trial, the court heard how the two men subjected 37-year-old Mr Chadwick to a sickening assault for no reason – punching, kicking and hitting him repeatedly with a dog chain between August 31 and September 1.
They then tried to cover up the murder by attempting to destroy vital evidence linking them to the crime.
Both Laurie and Gibb spent August 31 drinking before arriving at Mr Chadwick's property.
The pair, who were described in court as being alcohol dependent, then repeatedly punched and kicked Mr Chadwick on the head and body.
Following the murder, the court heard that both men tried to destroy evidence linking them to the crime by cleaning Mr Chadwick's blood from the floors and surfaces before placing his lifeless body on a sofa and leaving the flat.
Both men denied any knowledge of the crime but the jury found them guilty of murder.
During the trial, counsel Ximena Vengoechea, who represented Laurie, said her client had been diagnosed with Attention Deficit Hyperactivity Disorder and had turned to alcohol to deal with grief after his father died.
Ms Vengoechea also said that her client had no memory of the murder.
Passing sentence, Judge Lord McEwan said the men would have to spend at least 18 years behind bars before they were considered for release.
He said evidence had shown it to be a "motiveless crime".
He added: "You have been both convicted of a brutal murder of a man in his home.
"This gentleman had done you no wrong or expressed ill will towards you."
Both men were also handed 12-month sentences for their attempt to defeat the ends of justice.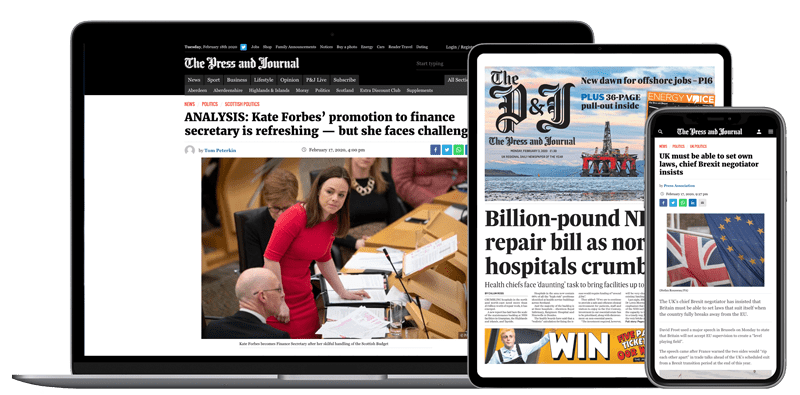 Help support quality local journalism … become a digital subscriber to The Press and Journal
For as little as £5.99 a month you can access all of our content, including Premium articles.
Subscribe