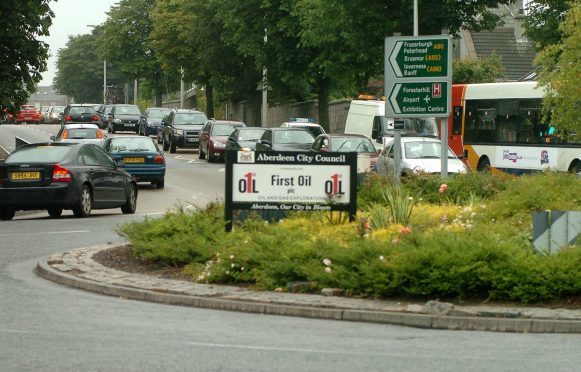 Junctions and roundabouts on a busy Aberdeen commuter route could be altered or scrapped as council chiefs look to encourage cycling and walking.
The under-construction Aberdeen Western Peripheral Route (AWPR) is expected to relieve traffic pressure on Anderson Drive when it opens late next year.
Ahead of the completion, Aberdeen City Council's infrastructure committee will consider plans to scrap the Riverside Drive/Great Southern Road, Kings Gate and Broomhill Road roundabouts.
Conversion to a traffic light-controlled junction will be an option.
A report to transport body Nestrans said the council has commissioned transport consultants SIAS "to look at four junctions on Anderson Drive and Great Southern Road for potential alteration once the Aberdeen Western Peripheral Route opens.
"This would be with the aim to provide more opportunities for encouraging cycling and walking.
"A report with results of the modelling and a recommendation that detailed design commence for Broomhill and Westburn Road junctions with Anderson Drive, is due to go to communities, housing and infrastructure committee at Aberdeen City Council in January for consideration."
Nestrans chairman Ramsay Milne said: "We are examining potential proposals to make these areas fit for purpose in light of anticipated traffic flows.
"The preference will be given to traffic coming into the city from the AWPR not Anderson Drive."