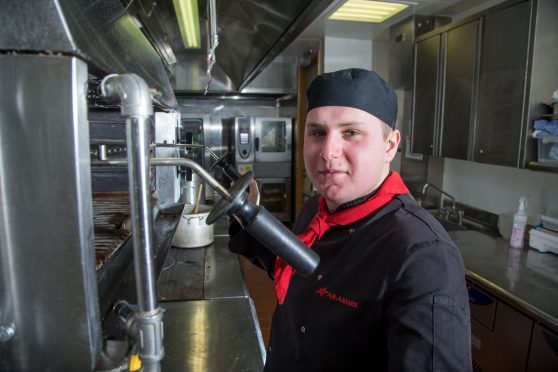 A north-east man with a double hearing impairment, who was struggling to find a job, is now optimistic about his future after securing a career in catering through an apprenticeship.
After leaving Dyce Academy, Liam Cobb found gaining employment a challenge. But now, thanks to a work placement with catering firm Aramark at BP's Dyce location, the 21-year-old has secured a permanent position with the company.
Mr Cobb said: "My morale was low because it was hard finding a job in Aberdeen without experience. So when I was offered the placement, I was over the moon."
Mr Cobb admitted that he had a few butterflies in his stomach on the first day of his new role.
He said: "I was very nervous because it is such a large building, being one of BP's main sites in Scotland, and I didn't know anyone."
But he added the welcoming and supportive environment at Aramark quickly helped him adjust to workplace life.
As he stated: "The team have always been very supportive and everyone looks out for each other. A lot of staff have worked here a long time and they have passed on a lot of their skills and knowledge. It's like one big happy family."
After just a month into his three-month placement Mr Cobb had made such a good impression he was offered a job.
He responded: "I was absolutely ecstatic. It was great to finally get a job and my family were over the moon because they felt I had finally got the break I needed."
He was offered a Modern Apprenticeship, and affirmed his experience with his apprenticeship has made him into a more well-rounded and capable employee.
Mr Cobb added: "It really made me think about everything I do in my job and I felt so much more confident and able to take on new challenges and new duties.
"I struggled to find employment, but now I can't believe what I've achieved in the last 18 months. I've been given the break I always needed. I am now so optimistic for the future and my career in this industry.
"I can now go out with my mates and be proud that I have a job."
Ever since starting his apprenticeship with Aramark, Mr Cobb has received lots of support from his colleagues to help him adjust to working life.
And thanks to the welcoming environment, Mr Cobb is now on his way to becoming one of the firm's most valued employees at Aramark's BP Dyce location.
Pamela Smith, Mr Cobb's training assessor, said: "Liam was quite hesitant in starting the Modern Apprenticeship, but he has gone on to do incredibly well."
Willie Rowell, Mr Cobb's line manager, said: "Liam has done really well since starting at Aramark and has taken every opportunity to better his career prospects.
"He is definitely an asset to this company and a great team player."