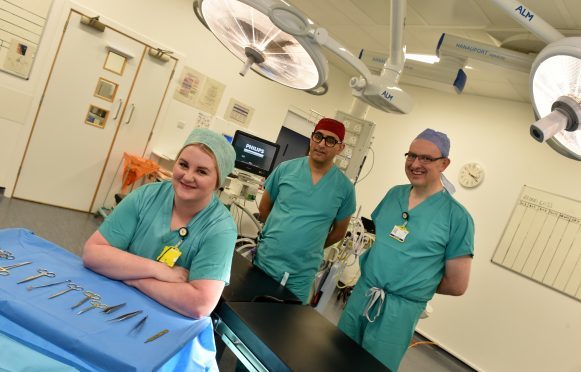 The Royal Aberdeen Children's Hospital has become the first such facility in Scotland to employ a highly specialised medical professional with the support of The ARCHIE Foundation.
Katie Anderson has taken on the role of paediatric surgical first assistant, which will allow her to care for sick children from the north-east, Orkney and Shetland who attend RACH better than ever before.
Ms Anderson, 27, qualified as a paediatric nurse in 2010 from Robert Gordon University and subsequently got a job as a paediatric theatre nurse at the RACH.
However, the ambitious Ms Anderson grew frustrated with not being able to help in theatre as much as she wished, and realised the only way to proceed professionally would be to undertake long-distance learning to become Scotland's first Band 6 paediatric surgical first assistant.
When she approached The ARCHIE Foundation last year to help fund her advanced training to help sick children even further, the charity was eager to assist.
Ms Anderson has now qualified and is using her new skills to provide even greater care to the children at RACH.
The ARCHIE Foundation's chief executive David Cunningham said: "Not everybody realises the foundation funds a number of specialist posts in Royal Aberdeen Children's Hospital, such as a paediatric specialist pain nurse, an additional member of the play team and a family support worker in our parent accommodation suite.
"We are now incredibly proud of her achievement and are delighted to have played a small part in that success."
Paediatric orthopaedic surgeon, Tim Dougall, added: "Katie can now have much more involvement with patients and can assist surgeons during operations, taking on some of the smaller tasks which can take up valuable surgical time.
"This can enable a surgeon to see more patients, especially in circumstances where, without a qualified assistant being available, operations may be delayed.
"This is very beneficial for everyone and we're extremely grateful to The ARCHIE Foundation."
Ms Anderson explained: "I love what I do, especially my ability to have more involvement with the patients, able to reassure them in advance of their operation and being a familiar face as they recover from the anaesthetic.
"It makes a real difference to the children and their families, and me too."