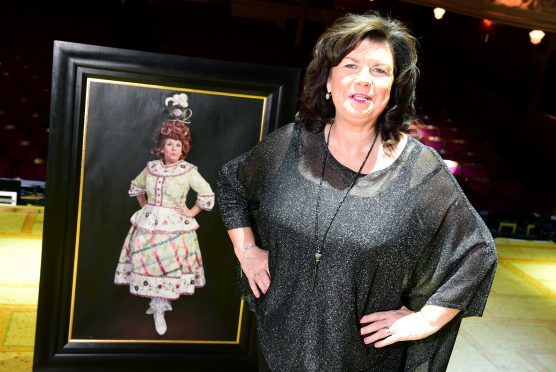 Aberdeen's much-cherished panto queen Elaine C Smith has unveiled a special portrait of herself to help raise funds for charity.
The Dick McWhittington star was joined by north-east chef Craig Wilson to present the painting by Scottish artist Gerrard M Burns.
The artwork will be sold at a silent auction in aid of cancer charity Friends of ANCHOR.
And an opening bid of £2,000 was put forward by the actress's long-time friend Alan Ewen, who lost his wife to cancer earlier this year.
The painting sees her in costume as Ms Potty, the role she played in the 2014 HMT panto Beauty and the Beast.
She said: "It's a real honour, particularly as a woman, because sometimes the women get written out of history a wee bit, so for me it's about other young women coming up and seeing it can be done.
"The emotional part of it for me is the connection to Aberdeen and that it was done here.
"The fact Mrs Potty was a role written by Alan McHugh for me and the fact that a charity like Friends of ANCHOR will gain out of this as well is fantastic."
Mr Wilson, from Eat On The Green, added: "Friends of ANCHOR is a charity that helps so many people in the North-east of Scotland and to be able to support the charity in any way we can is a privilege."
All the money raised will go towards supporting cancer and haemotology patients at Aberdeen Royal Infirmary.
Friends of ANCHOR's fundraising and PR executive, Ursula Fairlie, said: "We are incredibly fortunate to have the generous support from Elaine C Smith and Gerrard M Burns in donating all the proceeds of this special work of art."