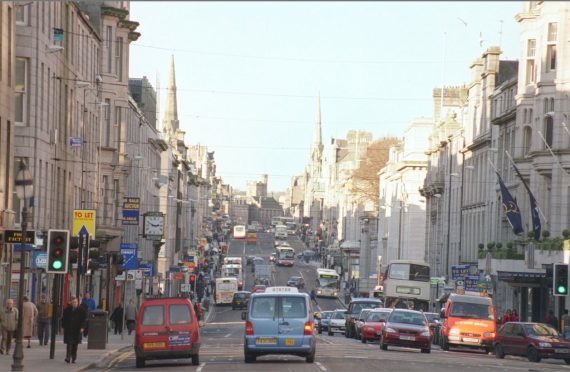 A new report has revealed that three of Aberdeen's busiest streets are among the most polluted in Scotland.
Union Street, Wellington Road and King Street all rank among the most toxic in the country in environmental group Friends of the Earth Scotland's latest report.
The annual average European legal limit for nitrogen dioxide – linked to asthma and other respiratory problems – is set at 40 microgrammes per cubic metre.
But the Granite Mile and the Torry-Cove route are third and sixth respectively in the top 10 streets which are failing to comply with these standards, with 43 and 46 respectively.
Meanwhile, King Street is breaching European standards for particulate matter; hazardous materials such as soot, smoke and dust, with 19mcg – the current limit is 18mcg.
The city centre and Wellington Road regularly fail to comply with these standards and are official "pollution zones", along with Anderson Drive.
This is despite the European Ambient Air Quality Directive setting January 1, 2010 as the deadline for compliance.
Elsewhere, Hope Street in Glasgow (65mcg) and Atholl Street in Perth (21) top the tables for nitrogen dioxide and particulate matter respectively.
Last night, FoES's Aberdeen coordinator Gregor McAbery said: "Clearly there is still work to be done to clean up Aberdeen's air. The air we breathe poses a health risk, especially for people with respiratory illness like myself.
"We welcome the bus and cycle-only plans for Broad Street as an early step towards bringing forward the more attractive and cleaner city centre envisioned in the Aberdeen City Centre Masterplan.
"It is just a pity that we have a proposal still on the table to build a six lane bridge at Bridge of Dee. That proposal will induce more traffic into the city and increase air pollution, whilst not actually making the Ruthrieston side of the junction any safer for pedestrians and cyclists.
"We need to do more to enhance walking, cycling and public transport routes, and move towards low carbon transport fuels like hydrogen or electricity for heavy vehicles and cars alike.
"The large number of short car journeys with one person per car is simply unsustainable.
"There can be no doubt that a nationwide phase out of diesel would be very helpful for reducing nitrogen dioxide and particulate pollution."