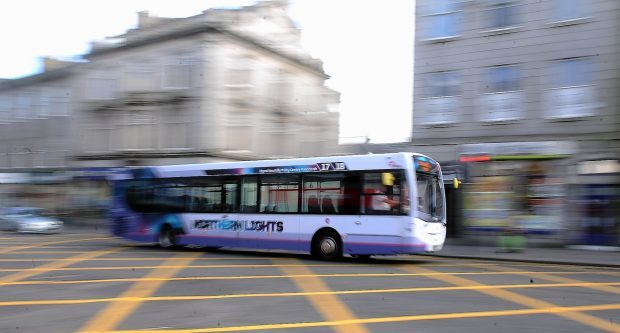 Two major bus routes linking Kingswells with the city will be axed later this year.
First Aberdeen yesterday announced the changes to the 11 and X40 routes meaning they will not run to the Aberdeen suburb after April 1.
The 11 service will operate between Northfield and Woodend and the X40 service will run between Dubford, Bridge of Don Park and Ride and Aberdeen Royal Infirmary.
The removal of these services mean the only remaining route will be run by Stagecoach from Kingswells Park and Ride with no stops in the suburb itself.
With an average of only 3.6 passengers per bus First claim the routes are unsustainable.
The operator originally proposed removing them last September, however have continued running to allow for consultation with local residents and Aberdeen City Council.
But now the decision has been taken to remove the services completely.
A spokesman for the company said: "The withdrawal of the service was a last resort.
"We are committed to trying to deliver sustainable services for local people and when something like this happens it means we have completely run out of options.
"The services have been running at a loss, we've been trying to maintain them but can't any longer.
"But they are just not sustainable."
David Cameron, SNP councillor for Kingswells, Sheddocksley and Summerhill, has approached Stagecoach to see if they will increase their services between Kingswells and Aberdeen.
He said: "For the people of Kingswells, what they absolutely need is a consistent and regular bus service into Aberdeen.
"First were offering something that really wasn't achievable, they were offering a 10 minute frequency.
"I want to be able to get an agreement to maintain a bus service, which will probably now be with Stagecoach.
"From my initial discussions with Stagecoach they said they won't offer anything they can't sustain so I don't anticipate Stagecoach coming along and offering a 10 minute service.
"I think Stagecoach will offer something, but it will be a 30 minute service or something that is sustainable."
Stagecoach admitted they are considering adding to their services from Kingswells.
A spokeswoman said: "We are looking at the possibility of introducing some new routes in Aberdeen city.
"However no decisions have yet been made."
Aberdeen City Council Transport and Regeneration spokesman Councillor Ross Grant said: "As a commercial company, First decides the routes for its buses. We can confirm First has informed us it will no longer run buses through Kingwells from 2 April.
"Aberdeen City Council officers have been engaging with other operators to try and find a solution. We will also bring forward details of a public meeting for residents in Kingswells shortly to advise of the council's discussions in trying to find a solution."