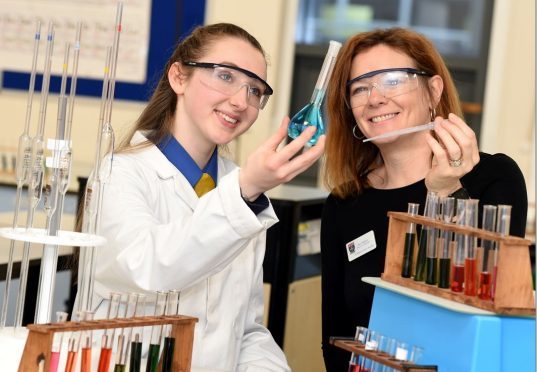 Budding young scientists at a north-east school are hoping to follow in the footsteps of the trailblazers before them.
Pupils at St Margaret's School for Girls in Aberdeen took part in a competition to name each new lab in the school's new science facilities.
The girls were given the chance to research their favourite female scientist, historical or modern, and write a 250-word summary on why theirs should be picked.
Among those chosen was Prof Dame Jocelyn Bell Burnell, who discovered pulsars, the cosmic sources of peculiar radio pulses. She officially opened the new lab in May.
Another lab has been named after French physicist Marie Curie who earned two Nobel Prizes for her pioneering work on radioactivity.
Meanwhile, one of the scientists chosen, Prof Dame Sue Black, will get the chance to see her dedication in person when she visits the school on March 17.
The winning names were chosen by head teacher Anna Tomlinson.
She said: "The competition saw many submissions. It was a difficult decision based on so many inspiring female scientists, both past and present. Each lab door is now labelled with the name of the chosen scientist and a short biography about her hangs outside each classroom so the girls can be inspired each day while waiting for classes to start.
"At St Margaret's we seize every opportunity to introduce our girls to inspiring female role-models whose capacity to motivate and enthuse younger women is huge."
The school is inviting people to an open day tomorrow giving them the chance to tour the building including the new block.
To reserve a place contact 01224 595188 or e-mail admissions@st-margaret.aberdeen.sch.uk