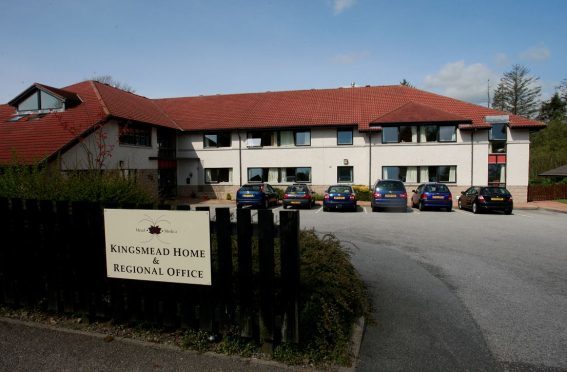 A troubled north-east care home has been given a damning report from inspectors.
Kingsmead Nursing Home, in Kingswells, has been under investigation by the Care Inspectorate and the Nursing and Midwifery Council amid claims residents were mistreated.
Inspectors visited the home in December and yesterday their report was made available publicly for the first time.
Giving the facility the lowest possible grade in three out of four categories, the Care Inspectorate report revealed "significant concerns" about the standard of care on offer.
For care and support, quality of staffing and quality of management and leadership, the facility – which is run by operator Mead Medical Services – was classed as "unsatisfactory".
The quality of environment was given a grade two, the second-lowest possible rating, and deemed "weak".
Inspectors said management and staff demonstrated "poor knowledge" of residents' medical needs.
The report also revealed that the home – which caters for up to 65 patients with issues such as dementia, mental illnesses and learning disabilities -had failed to properly record accidents and act on them.
Inspectors also found that confidential records were left lying out in the home's dining area.
They also raised concerns about training – on one occasion, the inspectors had to intervene when they witnessed care staff "moving and handling" a resident.
Inspectors found that the attitude of some employees was "disrespectful and demeaning" towards the residents.
Management were also heavily criticised for the way in which they had responded to concerns about the service.
The report stated: "The unsatisfactory way in dealing with people's concerns had resulted in anxiety, distress and loss of confidence in the service, and we did not observe that any improvements had been made in addressing these areas of concern."
The home had failed to meet all four requirements made by the inspectorate on its previous in July, but had met three recommendations.
Management and staff have now been set six requirements and two recommendations which have to be met by June.
It was revealed last month that former manager Esther Leaver had left the home, and it is understood she and the home's director of care Julie Seehuber were being scrutinised by the NMC.
It also emerged another employee force-fed medication to pensioners.
Interim manager Sheena Martin recently said the issues meant there had been "a lot of sadness" at the home.
But she added operator Mead Medical Services remained dedicated to providing the best possible care to its residents.
The home has now appointed a new manager who was due to start this week.
Kingsmead Nursing Home declined to comment.