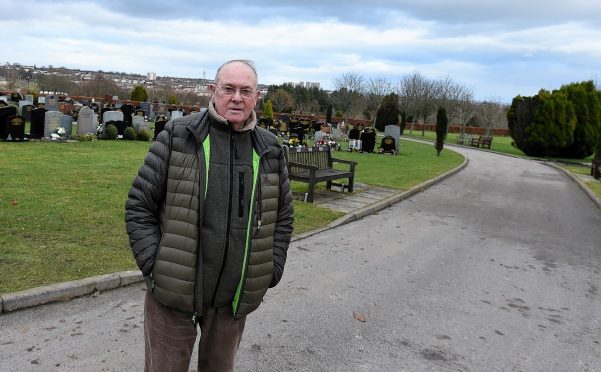 An Aberdeen pensioner said he would be "heartbroken" if the lack of inclusive parking facilities at Hazlehead Cemetery meant he was unable to continue visiting his wife's grave.
Dr Ronnie Strachan, who is a severely disabled war pensioner, is a regular visitor to the cemetery.
He wants changes to the parking facilities because the cemetery is on a steep slope, with the car park situated at the bottom of the hill.
Regular visitors to the cemetery also park in a roadside area at the top of cemetery.
This means those trying to reach graves in the middle of the cemetery face a walk up the steep slope on the way to or away from a grave.
In a bid to address the matter, Aberdeen City Council has been granting people with mobility issues access to the cemetery's internal road.
But there is no parking alongside this route, so it has merely opened up another problem.
This means that if any other vehicles use the internal road, they are either blocked by parked vehicles or have to move onto the grass and drive within a few feet of headstones to get past.
There is an area in the middle of the graveyard with very few graves, which Dr Strachan would like to see transformed into parking.
Otherwise, he fears not being able to visit his wife's memorial.
He said: "I would be heartbroken if I couldn't visit my loved one's grave. There must be others who are not able to go and see their loved one's grave and that is completely wrong."
Dr Strachan raised the issue with Aberdeen City Council. In an email seen by the Press and Journal, the authority responded they did not have the budget to make changes to the car parking.
However, there was a more positive reaction from Tillydrone, Seaton and Old Aberdeen councillor, Ross Grant, a member of the Communities, Housing and Infrastructure Committee.
He said: "We certainly want to avoid a situation where somebody would not be able to visit a loved one's grave.
"It is not the intention of the council for that to be an unfortunate consequence of the logistics of the physical layout of the cemetery.
"The council is not saying no to changes, officers are looking at requests and the options around that as part of a review of the facility."