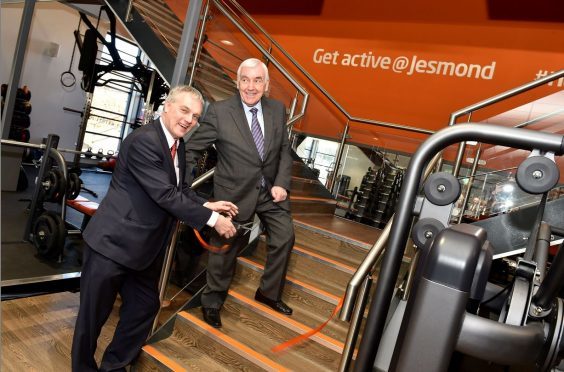 A refurbished sports centre in an Aberdeen suburb was opened to the public yesterday after a £1million injection.
Get Active at Jesmond, better known as the Jesmond Centre, in the Bridge of Don area, is now home to a "state of the art" gym, a spin studio, aerobatics facility and a new get-fit space based on interactive computer games.
The amenity, next door to Oldmachar Academy, is run by council-funded Sport Aberdeen.
The arms-length body escaped a cut to their funding in this year's budget negotiations.
But last year, Sport Aberdeen had to close both Hazlehead and Kincorth swimming pools after money was withdrawn.
First opened in 1999, the £1million renovation is the first major work to be carried out the centre since that decision.
Sport Aberdeen chairman, Fred Dalgarno, said building a new facility of a similar type would cost around £7million, but the £1million renovation made it "state of the art".
He said: "(This centre) truly sets the gold standard for community sport.
"It also clearly demonstrates the potential that Sport Aberdeen has and I am delighted that our strategic partnership with Aberdeen City Council has been able to achieve something we can be really proud of.
"This is just the start of what we hope will be a number of facility developments for the city and represents an important start on implementing the ambitious sports facility strategy."
Finance convener, and Bridge of Don councillor, Willie Young, welcomed the opening and even challenged a fellow councillor, Graham Dickson, to a weight-lifting competition.
He added: "It's a real pleasure to be here today opening this facility.
"I am sure that the centre will be an outstanding success and it is great that the council administration could be involved with the project."
Bridge of Don councillor John Reynolds said the centre aimed to compete with established private gyms but aimed to attract people of all walks of life.
He said: "It really is a fantastic facility and is as good quality as any private gym. The lack of cuts to Sport Aberdeen at the budget can only be welcomed."