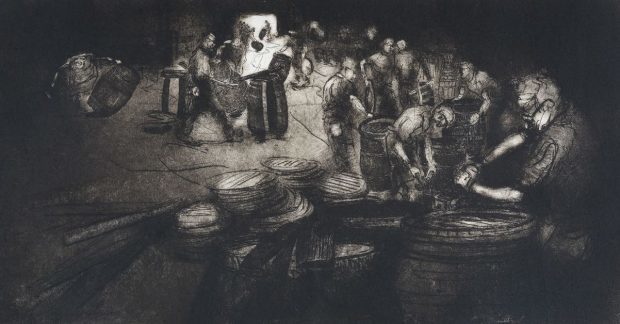 Artworks depicting the world-famous Speyside whisky industry by an Aberdeen artist will be put on show at a prestigious exhibition in London this month.
The Royal Society of British Artists will feature a piece by Kate Steenhauer at a high-profile event in Mall Galleries, near Trafalgar Square, between March 22 and April 1.
Ms Steenhauer is a multi-award winning artist, and many of her works are inspired by the distilleries of Speyside.
She has previously focused on other north-east industries, including the harbour and heliport in Aberdeen.
And she said yesterday: "It is really exciting to be featured as part of the gallery.
"My work 'Topping the Cask at Speyside' is part of a larger project, which will be displayed in a solo show at the Meffan Gallery in Forfar at the end of April and it is terrific this can represent that project.
"The work began at the end of 2015 with around six visits to the Speyside Cooperage.
"Initially, when I walked in, it was overwhelming, because so much was going on, but I enjoyed capturing the movement, gestures and habits of the coopers."
Ms Steenhauer recently returned from an art fellowship in Venice where she completed most of the exhibits for her upcoming show.
She added: "I have learnt an awful lot from my time in Venice including new techniques which I incorporated into my work for 'Scotland: Dargs and Drams'.
"The work essentially outlines aspects of Scottish life in work through 'Dargs' and also shows the play side through 'Drams'."
Kate Steenhauer's work can be found on her website at www.katesteenhauer.com