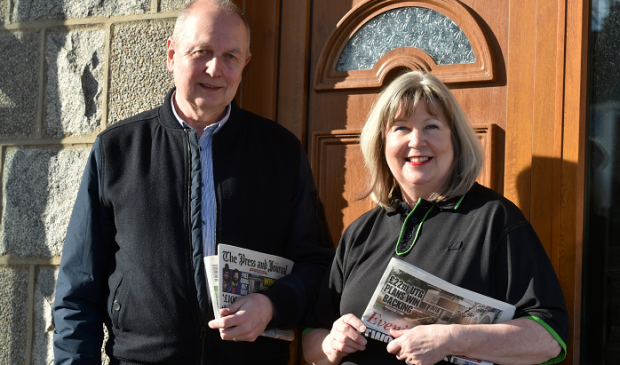 By his own admission, the world of newspapers is in Dennis Benzie's blood, and he oversees the delivery of more than 6,000 papers every week.
Ever since delivering the items as a young boy at his parent's newsagents, Mr Benzie's life has been entwined with newsprint and the story of the day.
Now 67, he's in charge of 60 delivery boys and girls and is urging customers to vote in the Home Delivery Awards.
The event, launched last week, will see hard-working paper boys and girls recognised for a second year running, and is being sponsored by Belmont Filmhouse.
Whether your paper always arrives on time or your delivery boy has a cheery greeting, Dennis always hopes his young employees will realise how important they are to the local newspaper industry.
He runs a smooth operation as the Mannofield supervisor and can still remember his parent's own paper shop on Newlands Crescent.
He said: "You could say it's in my blood: I used to deliver the papers as a young lad and I like to think I've passed on a few tips to the kids.
"A lot of it is common sense, but all the kids know not to tramp over gardens or leave gates open.
"It is just little things, such as me always telling them to push the paper all the way through the letter box as well."
Mr Benzie has been in his current role for the past 11 years, having previously managed his own newsagents' shop.
After attending the inaugural home delivery awards last year, Dennis is eager to see the winners revealed in each category and nominations are due in by the start of next month.
He added: "I really enjoy my job and it's actually very rewarding.
"I don't think people realise that delivering papers isn't just about getting some extra pocket money.
"It's hard work and encourages youngsters to take responsibility, understand the value of money, and increase their self confidence.
"Sometimes I have kids who are delivering for four years and the change in them is remarkable.
"They can start off very shy and as time passes I get to see them develop.
"I would urge customers to get voting because these youngsters get the paper through the door on time, no matter the weather."
Nominations should be submitted no later than April 8 and can be lodged by filling in the voting form online at