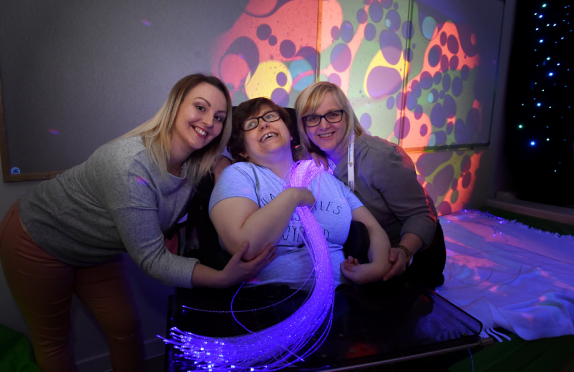 A £4.3million day centre for people with severe disabilities has opened its doors to some of Aberdeen's most vulnerable adults.
The purpose-built facility in Mastrick will provide support and activities for up to 50 adults with both physical and learning disabilities.
The amenity replaces the outdated Rosehill Day Centre, and features a wide variety of activities for its users, including a sensory garden, a specially-adapted kitchen, a sensory room with a water bed, coloured light projectors and fibre optic equipment, designed to help stimulate the senses.
The centre also boasts a computer room, replete with touch screen technology and software, which can be activated by simple eye or mouth movements, and ideal for the most severely disabled of users.
Councillor Len Ironside cut the ribbon at the centre's official opening ceremony yesterday.
He said: "This is a significant investment in the care and wellbeing of the most vulnerable sections of our community – at a time of constrained health and care budgets across the country.
"It shows the high level of our ambition when it comes to providing the best for our severely disabled folk."
The new centre, which is the size of a small primary school, also contains a calming quiet room and an arts and crafts facility.
Around 25 staff will look after the needs of the centre's users, and it will also provide neighbouring office space for a further 40 mental health and learning disability personnel.
It is currently referred to as New Rosehill, but a spokesman for Aberdeen City Council confirmed it will be officially named at a later date.
Jenny Laing, the leader of Aberdeen City Council, added: "This new centre will provide a modern and welcoming community asset in which this city can take great pride.
"This is a day centre which will build links with its local community, because the philosophy behind this scheme is one of inclusion.
"It will aim to overcome the traditional barriers which so often exclude people with physical and learning disabilities from the wider community."