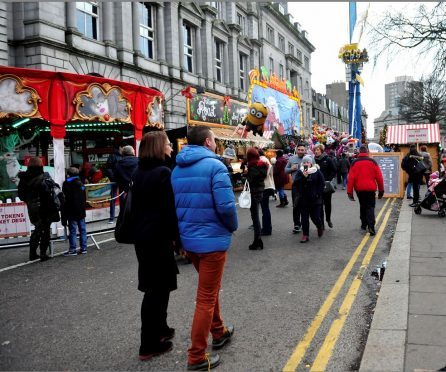 Aberdeen's Christmas village will move from Union Terrace to Broad Street and the Castlegate this year, it's been announced.
The traditional market has been on the city centre street for the past two years but will move for the next event.
The Castlegate is already pedestrianised and multi-million pound work is due to soon begin on turning Broad Street into an area only for buses and bicycles.
There had long been complaints about increased congestion when the market is on as Union Terrace is closed to traffic.
Figures put together by Aberdeen and Grampian Chamber of Commerce revealed around £5.5million was spent within the village, while the remaining money was spent on other services including travel and shops.
A total of £10.2million was generated in shops, while a further £3.7million was generated in other outlets specialising in food and drink.
But Adrian Watson, of event organisers Aberdeen Inspired, had to answer tough questions from members on the attraction including criticism of a lack of local traders and the prices of some rides and stalls.
Liberal Democrat leader Ian Yuill said: "One of the criticisms of both the 2015 and 2016 Christmas Villages was that they appeared very 'off the shelf' and did not have an Aberdeen feel. They could have been taking place anywhere.
"The 2016 Christmas Village was bigger but not necessarily better than the 2015 Christmas Village.
"The Liberal Democrats believe future Christmas Villages should involve many more local businesses. We want to see more local craft businesses, local food producers and other local small businesses taking part."
David Cameron of the SNP said he was "interested" to see that the Union Street McDonald's had an upsurge in trade during the attraction but questioned why the burgers weren't being bought in the village itself.
Mr Watson said the "raison d'etre" for Aberdeen Inspired was bringing more people into the city centre.
But he added: "Putting all this into the street is no mean feat. We are still learning lessons in what is an emerging attraction."
Mr Watson then said the organisation needed clarity on where the next market would be held.
Members unanimously agreed to Broad Street and the Castlegate.