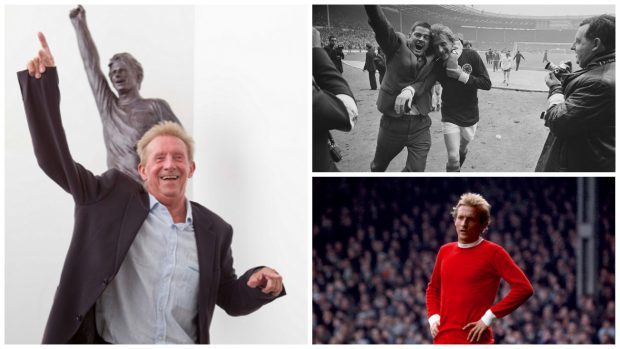 It's nearly 50 years since Denis Law was in his pomp, yet the memories of this remarkable fellow remain indelible.
So the news he has been granted the Freedom of Aberdeen will strike a rich chord with many people across the north-east.
Even when the TV pictures were in black and white, Law did everything in technicolour with a joyous effervescence, which propelled him into the pantheon of sporting greats.
And, although he turned 77 last month, he still returns to his roots and is a stalwart support of sport in the region.
Indeed, he still displays many of the qualities which he brought to the pitch in his off-field charity and philanthropic work.
Law genuinely was a wondrous, mischievous sprite. He dazzled for Scotland when they famously defeated England at Wembley in 1967, shimmered in helping Manchester United become an iconic force who lifted the European Cup a year later, and oozed talent, technical ability and a temperament which handled any setbacks.
The statistics were remarkable – he scored 30 goals in 55 Scotland internationals, 237 goals in 404 appearances at Old Trafford and helped the club win the First Division in 1965 and 1967 – but they never told the full story.
Even in his eighth decade, the former winner of FIFA's Ballon d'Or remains as committed to helping his native city as ever.
Quite simply, the Lawman is Aberdeen's greatest-ever footballer. He never played for the Pittodrie club, but his roots were hewn in granite and he has returned home on a regular basis with a smile.
There was nothing flash or sophisticated about his background while he grew up at 6 Printfield Terrace. This was in another time, another age from WAGs and EBTs, let alone footballers commanding six-figure salaries a week.
As Law recalled: "Dad was a trawlerman, always at sea, and I was gone at 15, so I never really knew him man to man, which is something I always regretted.
"Life was basic in Aberdeen, it was very down to earth. Clothes were paid for on tick, music was a comb-and-paper and Christmas was a Dinky car, a tangerine, a packet of Spangles and an uncrackable nut – but the lad next door would have got no more.
"At Huddersfield, my starting wage was £4 a week and once I had paid my digs and sent money home, I had a £1 left. But the cheapest fish supper in town cost a shilling so I survived."
Denis always tells these stories with a sparkle in his eyes. Many former stars gradually turn into cantankerous curmudgeons, forever complaining things aren't as good as they used to be.
But it has never been that way with Denis,whether unveiling a statue of himself at Aberdeen Sports Village or launching a council initiative to remove "No Ball Games" signs from his home city.
Even in his late 70s, the Lawman still has traces of the same blithe boy who didn't receive his first pair of boots until he was a teenager, but who subsequently developed into one of his country's true nonpareils.
As he recalled, of his days in the Granite City: "My young life revolved around playing football. There was no television then and people lived by their radio sets.
"All the kids did was play in the streets. You kicked a ball against the wall all the way to school, then you had a game when you got there.
"At mid-morning break, you had another game and you kicked a ball home at lunchtime and so it went on. It was a massive part of my life.
"I couldn't wear glasses to play in a proper match, so I developed a unique system for coping with it.
"I learned to play football with one eye closed.
"I kept my glasses on as long as I could, while I put on my jersey and socks and boots, but when the moment came to go on to the pitch, I used to close my right eye and keep it closed for the whole of the match."
Denis Law deserves the Freedom of Aberdeen. He is one of the freest spirits it would be possible to imagine.