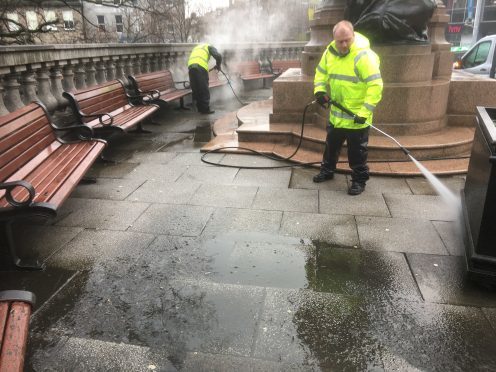 Work is due to begin this month on the long-awaited £3.2million pedestrianisation of Broad Street while a "deep clean" of Union Street has also been scheduled for the start of the summer.
Under the proposals, Broad Street will only be open to buses and bicycles once the work is complete.
Part of the street is to close at 5am on Saturday, March 18, initially to allow building work at Marischal Square and afterwards for the work on the street to begin.
The works are expected to take several months to implement, during which time Broad Street will be closed to all traffic from Upperkirkgate to Queen Street.
The route from Broad Street to Union Street will remain open to allow access to Queen Street, and the public and council staff will continue to have access into Marischal College.
The design for Broad Street includes a water feature, trees and benches, improved lighting, and a raised grass area offering flexible event space in front of Marischal College.
Meanwhile, the first deep-clean of the year is planned for early summer after the council was awarded £1.17 million by Historic Environment Scotland for repairing and preserving key buildings, a grant which will be match-funded by the local authority.
Council leader Jenny Laing said: "Our staff have worked incredibly hard over the winter to make Union Street sparkle again.
"As we move into spring, their efforts are there for all to see. The City Centre Masterplan recognises Union Street as the heart of the city."