Councils could be left with a multimillion-pound bill to redo key points of the Aberdeen bypass – despite flagging up their potential to become bottlenecks.
Commuters hoping the bypass will be the congestion cure for the city could face lengthy delays and months more work if authorities have to step in after the project is completed.
Road officials and council leaders have already raised concerns about the layout of some of the junctions but claim they have been told by Transport Scotland that the plans cannot be altered.
Aberdeen City Council's deputy leader Marie Boulton and North East MSP Ross Thomson both fear the bypass could have a number of pinch points at various junctions, including North Deeside Road at Milltimber, the A96 Aberdeen to Inverurie road near the airport, the turn-off at Charleston from Cleanhill and the A944 Aberdeen to Westhill route.
Mrs Boulton has now put forward a motion – which will be discussed at this week's full council – requesting a report detailing the suitability of the links between the local road network and the bypass.
Both she and Mr Thomson are worried that if the junctions are found not be suitable, the city and Aberdeenshire councils would have to pay millions to improve them.
The pair have urged Transport Scotland, who are in charge of the £750million AWPR/B-T project, to identify any potential problems and address them now, before construction finishes.
Mrs Boulton said: "One potential problem is having traffic lights at the junction between the AWPR and the A93 North Deeside Road.
"Residents and community councils have been raising concerns because as soon as you have traffic lights on the North Deeside Road, you have gridlock, so I need to be satisfied that all the right questions have been asked.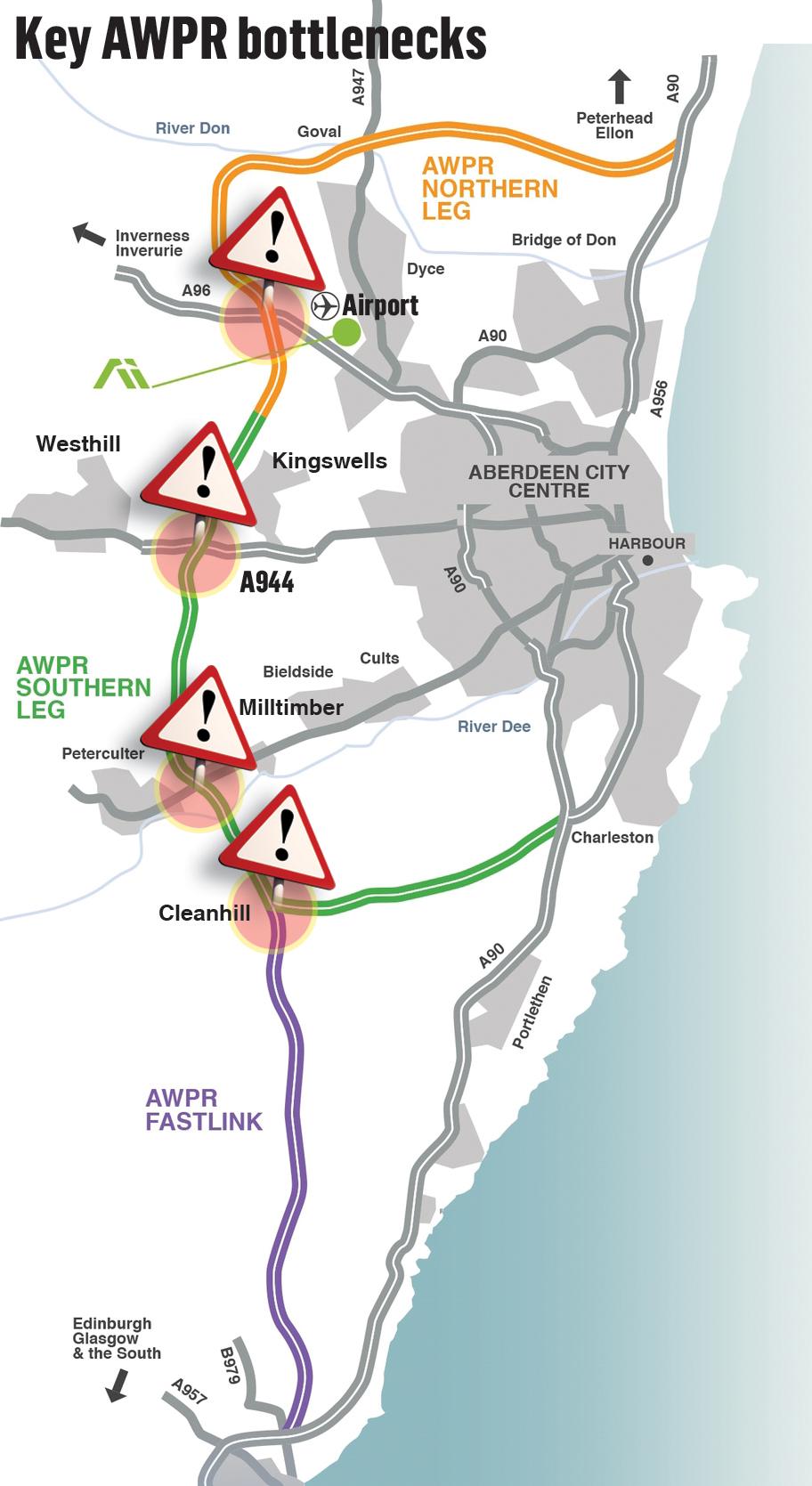 "When the Transport Minister came up to a recent meeting in Cults, he was very specific in saying that if there were any issues relating to the AWPR, if it's on our road network, whether it's the city or shire council, it would be our responsibility – and our costs – to resolve them.
"But if they're on the actual AWPR themselves, it would be them.
"The junctions are on our road network, so what I don't want to happen is for them to open and then we have to deal with the consequences if they fail.
"If there are any concerns that these junctions aren't fit for purpose, we have a duty to review that now before it costs the public purse millions."
Mr Thomson, who is also a councillor, said he had been told by Transport Scotland that any changes to the AWPR would need to wait until after construction has finished as it is being built to plans that have gone through public consultation.
He added: "I support what Marie Boulton is trying to achieve – she has received the same advice that I have from road officials in the council who already know of a number of junctions where there are going to be potential issues, where changes may have to be made.
"But the ridiculous thing is they cannot be made because the AWPR has already gone through the public hearing process, or so we keep being told by Transport Scotland.
"It's really frustrating, because it seems we can't actually address these issues until after the AWPR is built and we would then have to go back and make these changes – at an additional, most likely expensive, cost.
"I don't think the people of Aberdeen and Aberdeenshire should be the ones to pick up the tab."
Once the bypass is complete, it is expected to carry more than 43,000 vehicles a day through its busiest sections.
A spokeswoman for Transport Scotland said: "As is the case with any major roads project, such as AWPR/B-T, traffic modelling is undertaken during the project development to inform the junction designs.
"Once the new roads and junctions are open to traffic there is a period of post-completion monitoring and evaluation.
"The information produced will then show the actual operation of the completed roads compared to the earlier forecasts.
"The responsibility for undertaking any future work on these roads and junctions depends on the specifics of each particular location."