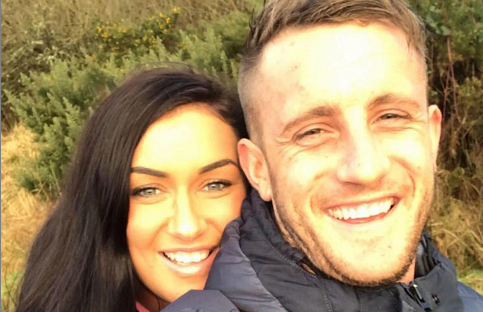 A man has described the moment he crawled from the burning wreckage of his van after a head-on crash.
David Buchanan was driving on the A947 Aberdeen to Banff road when his van collided with a car near Fyvie last Thursday.
As the 26-year-old lay bleeding in the wreckage, he realised the engine had caught fire.
Fearing the van might explode, he dragged himself through a broken window.
Last night, he thanks the passers-by who stopped to help him and the driver of the other car, a 17-year-old who was flown to Aberdeen Royal Infirmary with serious injuries.
Mr Buchanan, who lives in Dundee, said he had been driving southbound when a blue BMW overtook him near a bend – forcing an oncoming Vauxhall Corsa to lose control as the driver tried to avoid a collision.
He said: "There were cars coming towards us and I thought, 'They are never going to make it'.
"The BMW managed to swerve back into the left-hand lane but it caused the driver of a black Vauxhall Corsa to lose control.
"The car came right across the road and smashed into my van."
Mr Buchanan said he was in "excruciating pain" but saw that his van's engine was on fire and needed to get out.
"The doors had been caved in but I managed to crawl out of the window," he said.
"There was someone screaming from the other car but no one could get him out.
"The fire service had to cut him free.
"A lot of people stopped to help — they were brilliant."
He was taken to Aberdeen Royal Infirmary with a broken foot and toe, severe whiplash and cuts and bruises, while his frantic girlfriend Danielle Woodcock travelled north to get to him.
Police last night renewed their appeal for witnesses, and are particularly keen to speak to the driver of the blue BMW.
Sergeant Rob Warnock said: "Inquiries into the circumstances of the incident are at an early stage and I am appealing to anyone who witnessed the incident or saw either a black Vauxhall Corsa or a blue Toyota Hilux crew cab prior to the incident to contact police.
"In particular, we would like to speak to the driver of a blue BMW vehicle which had been travelling southwards at the time of the collision.
"This vehicle was seen overtaking just prior to Fyvie. The occupant may have information that could help the investigation and I would appeal for them or anyone who saw this vehicle to contact us."
Anyone with information should call 101.