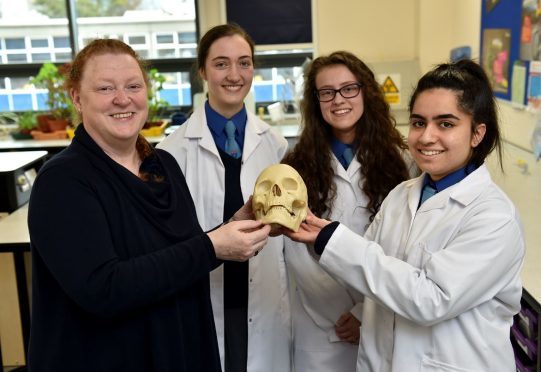 An Aberdeen school has welcomed a trailblazing scientist to visit a new science laboratory named in her honour.
Pupils at St Margaret's School for Girls in Aberdeen took part in a competition to name each lab in its new science block.
They were given the chance to research their favourite female scientist, either historical or modern, and then write a 250-word summary on why that person should be picked.
Professor Dame Sue Black, a forensic anthropologist and academic at Dundee University, was among the names chosen.
Adorned with the professor's name, the biology lab door also features a short biography of her achievements.
During the visit Dame Sue was given a tour of the school and the new science block and labs.
She also gave a talk to the school during assembly before answering questions from senior pupils.
The school's head teacher Anna Tomlinson said: "We are honoured to welcome Professor Dame Sue Black to our school.
"She is an inspiring female role-model to our girls who has motivated and inspired girls of all ages."
Dame Sue, who was raised in Inverness, is a world-renowned expert in her field and is the director of the centre for anatomy and human identification in the City of Discovery.
She has been involved in a number of high profile forensic investigations including the recent analysis of the Pictish man who was murdered on the Black Isle 1,400 years ago.
Among the other names chosen was Professor Dame Jocelyn Bell Burnell, who discovered pulsars, the cosmic sources of peculiar radio pulses.
Another laboratory was named after French physicist Marie Curie who earned two Nobel Prizes for her pioneering work on radioactivity.
And the chemistry lab was named after Helen Sharman OBE, who became the first British astronaut to visit the Mir space station in 1991.