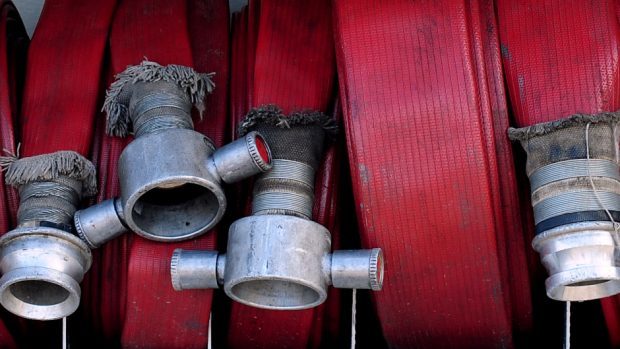 Three people were evacuated after a fire broke out in an Aberdeen flat at the weekend.
The blaze took hold in a ground floor flat on Albyn Grove shortly after 10am on Saturday.
Four crews from Anderson Drive, Central and Altens were sent to the scene to tackle the "well-developed" fire.
More than 20 firefighters, wearing protective breathing apparatus, battled the flames in the empty flat while three neighbours were evacuated.
Nobody was badly hurt.
Police were also called to the scene, and subsequently closed the road between Stanley Street and Union Grove.
After ensuring the area was made safe, firefighters spoke with residents and offered to fit smoke detectors within properties which had none.
A joint investigation is now under way, with police and the fire service attempting to establish the cause of the fire.
Meanwhile, the fire service have urged people to ensure they have a working smoke alarm in their homes.
Station manager Gordon Riddel, who was the incident commander on scene, said: "Preventing fires from happening in the first place is of paramount importance.
"Smoke detectors can save lives and the Scottish Fire and Rescue Service would encourage everybody to ensure they have working smoke detectors in their homes.
"In addition, we offer free home fire safety visits (HFSV) which are designed to help residents recognise risks within their living space. We share advice with occupants on what to do in the event of a fire as well as checking existing or installing new smoke detectors.
"I would urge anyone who wishes to receive a HFSV to contact their nearest station or visit the SFRS website."