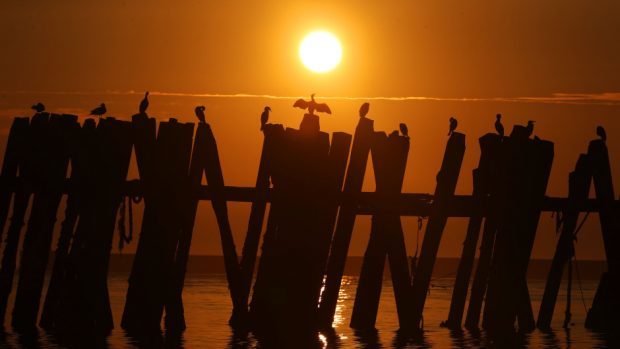 The highest UK temperature for 2017 was recorded in Aviemore yesterday as the north and north east basked in glorious spring sunshine.
A high of 19.9C was recorded in the town on Sunday – the highest temperature anywhere in the UK so far this year.
Aviemore set the second record in as many days for the north of Scotland after 19.1C was recorded in the Aberdeenshire town of Aboyne on Saturday.
Commenting on the record breaking heat, Stuart Brooks, a meteorologist for the Met Office in Aberdeen said: "Aboyne was recorded at 19.1C on Saturday but on Sunday the high pressure moved a little further west and that is why Aviemore was the highest temperature on Sunday."
The hot spell has been caused by a large area of high pressure which has covered just about all of the UK in the last few days.
Mr Brooks added: "There is a large area of high pressure which currently is centred just over the north sea and it has developed across the UK and over to the Atlantic.
"It has been in the perfect position for the UK and has helped to keep the weather fronts – which bring rain – at bay.
"The only exceptions across the whole of the UK have been Cornwall in the extreme south west and Shetland in the extreme north."
Today is not expected to be quite as warm, but a high of about 17C is expected before some rain hits tomorrow.
Today the north west Highlands are expected to be the warmest in the north and north east.
The Met Office expect the mercury to rise to about 17C in Poolewe today.
Further south in western Aberdeenshire temperatures are set to reach 15-16C in Aboyne and Ballater.
In Aberdeen a high of just 12C is expected with a breeze from the North Sea causing cooler conditions in coastal areas.
It has also been suggested that the warm spell caused a wildfire on Saturday in Deeside.
The gorse and scrubland blaze happened close to the Deeside Gliding Club at Aboyne on Saturday afternoon, 26 fire fighters from Aboyne, Ballater, Balmoral and Alford were called to the fire shortly after midday.
At its peak the fire was 400 metres by 400 metres but after battling the blaze for 90 minutes the area was declared safe at 1.51pm and fire service confirmed they are not investigating the incident.