A hole-in-the-wall gang who blew up cash machines in the north-east and across the UK to steal more than £550,000 are facing years behind bars.
The cell, who hail from Liverpool, Manchester and Birmingham, stole £67,000 from ATMs in Kingswells and Newtonhill.
They also made off with a £56,000 Audi RS4 from a home in Garthdee Gardens, Aberdeen, one of a number of stolen high-powered cars used in a string of raids.
As well as blasting their way to the cash they sometimes ripped the machines out of buildings using a vehicle instead.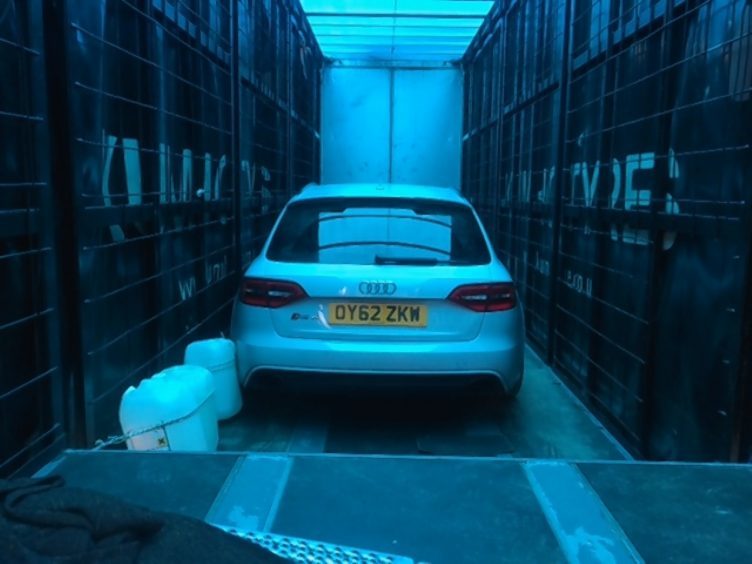 In all they netted £555,000, caused £118,000 damage to ATMs and almost £35,000 damage to buildings.
They struck at the Tesco Metro store at Newtonhill on June 13 2015, using oxyacetylene gas to blow a gaping hole and then helping themselves to £51,000 in notes.
The trick was repeated just seven weeks later on August 3 at the Co-op in Kingswells, swooping in the dead of night to blast the machine, leaving with £16,000 and a trail of destruction in their wake.
The gang targeted 13 cashpoints in total, including ones in Huyton, Cheshire, Gloucestershire and Thames Valley between February 2015 and February last year.
Prosecutors said they pumped the gas directly into ATMs via rubber tubing and ignited it – often using a spark from a car battery – to cause the blasts.
On other occasions they forced their way into buildings, wrapped high strength straps connected to heavy vehicles around the ATMs, then dragged them away.
They made a final, failed attempt in Carnoustie, before officers swooped to catch two of the group when their stolen car was spotted in a McDonalds car park in Arbroath in February last year.
In June, eight men were charged with conspiracy to cause an explosion and all but one – Gary Carey – with conspiracy to commit burglary.
After a 12-week trial before a jury at Liverpool Crown Court Andrew White, 28, of Exeter Street, St Helens, – one of Merseyside's most wanted fugitives after he fled to Spain – was yesterday found guilty of the first charge. He had previously admitted the second.
He was previously cleared of 31 gas bomb attacks on ATMs, in which a Huyton-based gang stole nearly £800,000, following a trial in December 2015.
The jury heard how the ringleader co-ordinated some of the gang's activities on a hidden mobile phone from his prison cell while on remand in custody.
His brother Anthony White, 26, of Kingswood, Huyton, was found guilty of both counts, along with Michael Galea, 41, of Gregson Road, Prescot.
Carey, 40, of Gorseburn Road, Tuebrook was found guilty of conspiracy to cause an explosion.
Nanu Miah, 28, of Anderton Road, Sparbrook, Birmingham, was found guilty of the first count and admitted the second.
Two other men, Carl Cavanagh, 33, of Barford Road, Huyton, and Anthony Conroy, 29, of Ash Vale, Wavertree, admitted both charges.
Scott Pearson, 35, of Woolfall Heath Avenue, Huyton, was found not guilty of conspiracy to burgle and jurors were unable to reach a verdict on the charge of conspiracy to cause an explosion against him.
Prosector Ian Unsworth QC said the gang used "dedicated, ruthless and sophisticated methods to steal vast quantities of money".
He said they drove stolen vehicles in a "terrifying way" and relied on a huge number of mobile phones to avoid being caught.
Detective Chief Superintendent Chris Green, who heads the north west regional crime unit known as Titan, said the gang thought themselves "untouchable" and were reckless with public safety.
"We are fortunate that no-one was hurt," he said.
"These men were driven by greed. They didn't think about the dangerous nature of what they were doing and the potential that they could cause serious and significant injuries to others through their recklessness."
The gang will be sentenced on April 19.