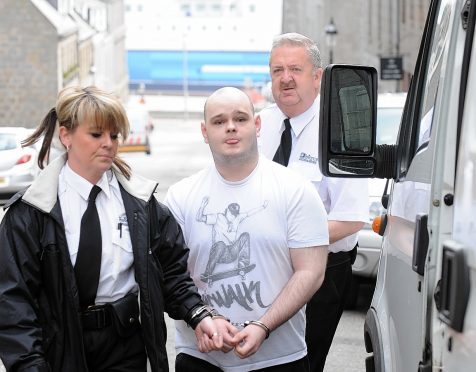 A brutal killer set off a prison sprinkler system and flooded his cell – then complained because jail staff failed to save his valuable book collection.
Steven Brady caused hundreds of pounds worth of damage by using a lighter to set off the fire alarm and activate the sprinkler system.
But the murderer then wrote to court to complain that prison staff had not acted to look after his collection of 76 books, his Playstation and ten games.
The 28-year-old from Aberdeen, admitted damaging furniture and fittings in a cell at Perth Prison on January 19 by maliciously activating the sprinkler system.
Fiscal depute Carol Whyte told Perth Sheriff Court yesterday: "At 10.50am the accused was within a cell and the door was locked.
"The fire alarm panel activated and officers went into the cell and saw that the sprinkler system had been activated and the cell was flooded.
"The accused was moved to another area and he admitted to staff he had used his lighter under the detector to activate the sprinkler system.
"The total damage to the cell was £436, including parts and labour."
In a letter pleading guilty, Brady whined about the loss of his goods as a result of the flooding and said he set off the alarm because he feared for his life.
He said: "Mostly all of my personal property went missing after this event, with no explanation from staff. There was one PlayStation, ten games and 76 books costing an average of £6.99 each.
"All of this property was bought by my family. I set off the alarm as I believed my life to be in danger in the hall."
Brady, who is serving life for murder, had a two month concurrent sentence imposed yesterday.
The repeat offender had only been freed from a young offenders' institution for two weeks before he lashed out at Raymond Brennan during a row over a £10 bag of heroin.
The 47-year-old died from seven wounds to his chest and one to his neck at his Jute Street flat.
Lord Brodie sentenced Brady to life after he admitted murder and ordered that he should serve at least 15 years behind bars.
The court previously heard Mr Brennan approached Brady with a craft knife following the heroin row.
But Brady overpowered Mr Brennan and stabbed him in the neck with the craft knife, before using another knife he was carrying to repeatedly stab the father-of-two.