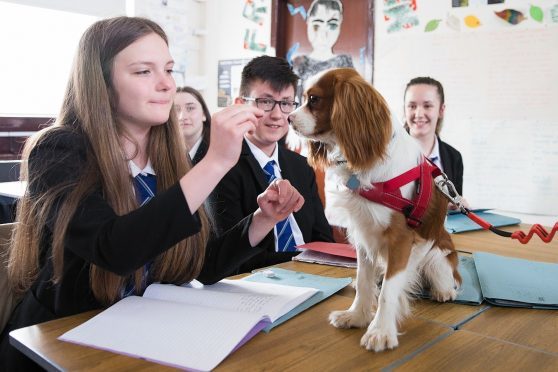 There were chins, and tails, wagging when Torry Academy pupils returned from their two week Easter break on Tuesday.
This was because the academy has become the first in Aberdeen to have a school dog.
Arnie, a King Charles spaniel pup, lives with the school's principal teacher for support for learning, Karen Makepeace.
He has spent the last the last two days at the school and it is hoped in the long term Arnie will improve the wellbeing of school pupils by helping them with mental health and anxiety.
The school also hopes that during the upcoming exam period he can help pupils with stress during a hectic time.
Mrs Makepeace initially came up with the idea of having a school dog more than a year ago.
She researched how dogs can help children and selected a King Charles spaniel because they are very good at interacting with children.
She said: "The idea started with an informal chat at lunchtime about the benefit of children working with animals.
"I researched the benefits and found them to be many and varied, whether that be curriculum based or more holistically with wellbeing.
"The presence of an animal in a child's life can make an enormous difference to how they feel about themselves.
"It just seemed a good idea so I got together the research and proposed it to the senior management team at Torry Academy.
"They were very keen to go with it and from there it was a case of going to the inclusion team, health and safety and eventually we got it sorted out."
Initially Arnie will just be working with pupils in support for learning but in future may go into other classes once he is more familiar with the school.
Torry Academy's head teacher, Jennifer Cranna, called it "special" to have a school dog and revealed that there has been plenty of positive feedback from pupils and staff alike.
She said: "It's very special to be the first in Aberdeen to have a school dog and Karen has put in an enormous amount work getting everything in place.
"I've never seen so many smiles at the school from pupils and staff."