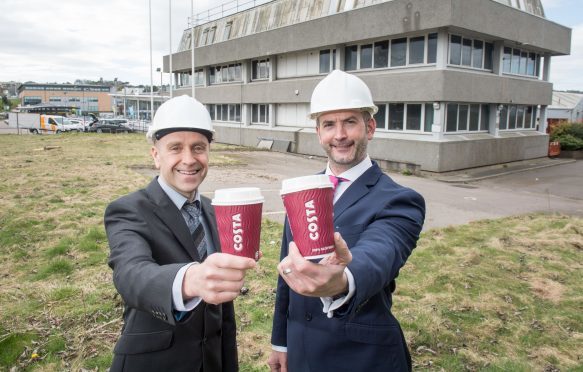 Work has begun to create Aberdeen's first drive-through Costa Coffee.
A derelict office block, on the corner of Abbotswell Road and Wellington Road in Tullos, is now being knocked down to make way for the cafe, which will be the coffee chain's seventh in Scotland.
The council's planning department granted permission after the scheme has won widespread backing from the local community with more than 400 letters of support.
Iftikar Mian, director of developer West Coast Estates, said: "We are excited to be able to start work on this project which will breathe new life into a redundant office site and provide businesses with much needed convenient amenities on their doorstep.
"More than that though, it will generate new jobs and provide a modern destination for people in the community to meet and socialise.
"We are grateful to Aberdeen City Council for their pragmatic approach to the scheme and feel privileged to have been able to work closely with the local community in shaping the development."
The £2million development will be Aberdeen's largest Costa Coffee outlet and is expected to create a total of 20 jobs with seating for up to 94 people and parking for 34 cars.
Paul Richardson, acquisition surveyor at Ryden, said: "There are lots of sites across Aberdeen that with a bit of imagination and effort could be regenerated.
"This was a challenging site for several reasons but by working in partnership with West Coast Estates and the local community we now have a development that will rejuvenate the site and will add an excellent amenity to Tullos and the south side of Aberdeen."