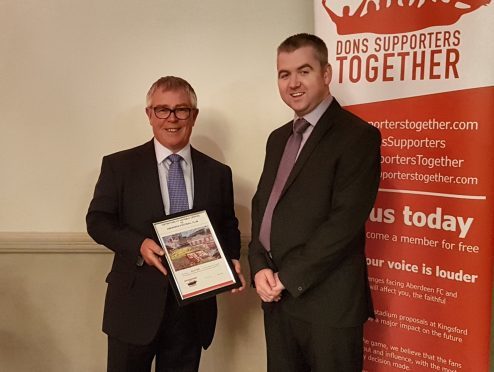 Aberdeen Football Club's longest-serving member of staff has been recognised for his many years of dedication.
David Wylie received the DONS (Distinction of Notable Service) award from the organisation, Dons Supporters Together, and it was presented to him at a special Stand Free Youth Development dinner.
Mr Wylie, who retired last year, was presented with the honour for his 33 years as a physiotherapist at Pittodrie, spanning the period from 1983 to 2016, which encompassed all manner of highs and lows for the north-east organisation.
He is the 11th recipient of the award which is given to players, staff and supporters who have made a significant contribution to the club.
Past winners have included such illustrious names as Sir Alex Ferguson – who led the Dons to European glory in 1983 – Willie Miller, who captained that iconic side, and the late Teddy Scott, whose scouting prowess unearthed myriad stars.
The award is entirely fan nominated and is only bestowed on people who are deemed to have offered outstanding service to the club.
Kevin Mackenzie, chairman of DST, said: "We are delighted to present the award to David on behalf of the fans. It is no surprise that his name was put forward given the length of service and dedication he gave to AFC.
"The club, the game and the role of physio changed so much over those 33 years. What did not change was David's commitment to Aberdeen and that has to be commended."
Mr Wylie began his career training as a chartered physiotherapist at Southern General Hospital in Glasgow.
From there, he moved to a series of jobs, including working for the NHS, before he received a call from the famous former Scotland manager, Ally MacLeod, who invited him for his first spell as a football physio at Motherwell in 1979.
He subsequently joined the coaching staff of AFC on July 8, 1983, two months after the club's memorable victory in the European Cup Winner's Cup at Gothenburg where they triumphed over Real Madrid with a late John Hewitt goal.
Despite missing out on this final, Mr Wylie was lucky enough to preside over future cup finals and work with some of the biggest names and characters in the history of the club.
During his career, he had to deal with the changes in approach to injuries, different treatments and new surgical techniques which have completely changed the game and the role of the physiotherapist.
Last year, after spending such a large portion of his life in the sport, he made the decision to retire and spend more time with his wife, Leslie.
On receiving the award, which is a specially commissioned print from artist Dod Dow, Mr Wylie said: "I am very grateful to DST and their members for honouring me with the DONS Award."