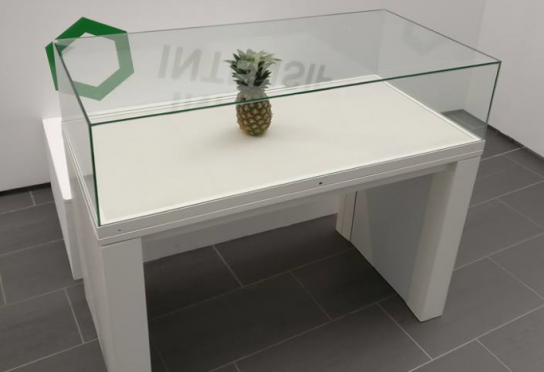 A pineapple that was left in a Robert Gordon University art exhibition as a prank has now been adopted as a work of art.
Business information technology student, Ruairi Gray, decided to abandon his fruit at the Look Again exhibition at RGU's Sir Ian Wood building, in the hope it would be mistaken for an art piece.
But when he returned four days later, the 22-year-old was shocked to discover the pineapple had been put inside its very own glass display case at the event.
It remains unclear exactly who decided to give the "artwork" such prominence, but the curators of Look Again have kept the fruity piece on display, saying it reflects the "playful" spirit of the artist's display.
Mr Gray said: "When we came in last Monday morning, someone had put it under glass and made it part of the display.
"I've got no idea who did it, but it's the best possible outcome as far as I'm concerned, I couldn't stop laughing."
Natalie Kerr, a cultural assistant for the festival who organised the display, denied putting the pineapple in the case on very good grounds. Namely: she's allergic to these fruit items.
it couldn't have been her because she is allergic "We were moving the exhibition, and came back after 10 minutes and it was in this glass case.
"It's a bit of a mystery – the glass is pretty heavy, and would need two or three people to move it, we've got no idea who did it.
"But it's still there now, we decided to keep it because it's keeping with the playful spirit of this commission.
"A theme of next year's festival is young people and play, so this puts us in good stead.
"The 2017 festival has been really successful – we had more than 30,000 attendees, so we're already looking forward to next year."