A special family fun day will be held this weekend to promote a project which could transform the north-east into a world-class destination for dolphin watching.
The planned £10million heritage and science centre at Greyhope Bay near Torry is designed to highlight Aberdeen as one of the best spots in the UK to see marine wildlife, such as dolphins, porpoises and whales.
A fundraising gala dinner will be held this Friday in aid of the project inside a glass-fronted marquee at the site of the proposed development.
Featuring a 3D virtual reality tour of the proposed building design, the evening will showcase the plans for the centre's wildlife viewing platform, restaurant, education facilities and theatre spaces.
And on Saturday, all are welcome to visit the marquee between 11am and 4pm for a free family fun day.
Featuring a touch pool full of aquatic animals to allow the public to get hands on with north-east marine life, food vans from local businesses, and of course a chance to spot the famous dolphin population, all will be welcome to attend and get a taste of what the Greyhope development could bring to the north-east.
Fiona McIntyre, marine research scientist and the managing director of the development, said: "We're using the marquee to get the local community down and see what Greyhope Bay is all about.
"We're going to have some displays on marine mammals and how we monitor them around the north-east, information on how plastics pollute the marine environment, a life-size minke whale model, and a touch tank where you'll be able to get hands of with marine life such as starfish and crabs – it's going to be quite cool.
"It will be a great day full of fun and entertainment – we've also got Big Noise putting on a performance, Walker Road Primary School will be doing a dance, and the Street Kings project will be doing a dance as well, so there will be lots on offer throughout the day.
"And of course there's always the chance to spot the dolphins – the folk from RSPB Dolphinwatch will be on hand with binoculars and telescopes to help people enjoy the marine life just off the Aberdeen coast.
"Throughout the day, we'll also be hoping to raise even more cash for the project through raffles and donations."
Tickets are still available for Friday night's gala.
To purchase a ticket, e-mail events@bigpartnership.co.uk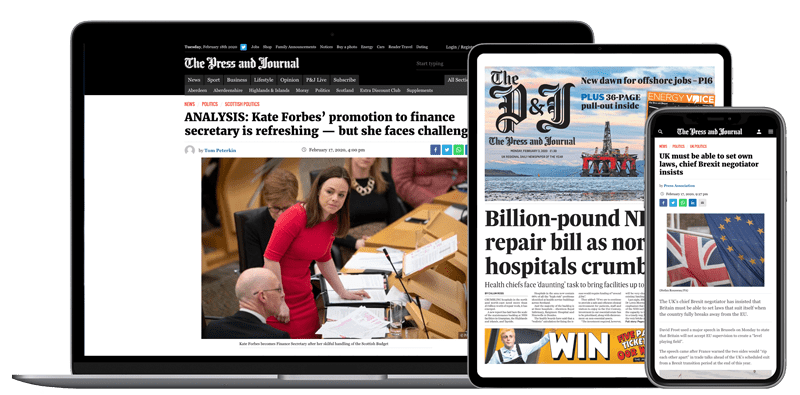 Help support quality local journalism … become a digital subscriber to The Press and Journal
For as little as £5.99 a month you can access all of our content, including Premium articles.
Subscribe