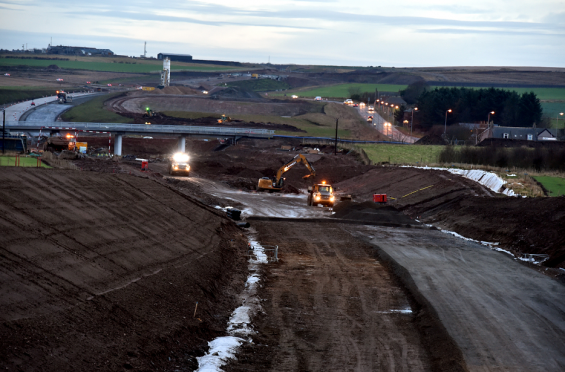 Thieves have stolen thousands of pounds worth of building tools from an Aberdeen bypass site.
Transport chiefs are now reviewing security at the spot, just weeks after teens broke into a nearby site and filmed themselves scaling a huge industrial crane.
Police have confirmed they are investigating two thefts in the Netherley and Cookney areas, which took place between overnight last Tuesday.
The criminals made off with more than £5,000 of equipment, including a cement mixer and a generator.
One resident who stays near Cookney said her husband witnessed three individuals loading "everything they could" from a storage unit into a pick-up truck.
Last month, frightening footage was posted online showing teenagers dangling more than 100ft above the ground from a crane being used on the AWPR/B-T project.
The young men broke into the site at Milltimber, close to the area where the equipment was stolen last week.
Transport Scotland launched a security review in the wake of the incident, and have now said a further review will be looked at.
Last night North-east MSP Lewis Macdonald said Transport Scotland should "redouble" its efforts to ensure all AWPR sites are kept safe and secure.
He said: "I think this adds to concerns.
"We've already had the incidents were the teenagers broke in, reports that there had been an accident per week on AWPR sites, and now this news of the theft of heavy equipment.
"These are public assets on a public site, but there's also a concerning safety implication as well here for staff, as well as anyone who may trespass on the site.
"It seems to me that Transport Scotland must redouble its urgency to review its security precautions, because clearly they are not working."
Fellow north-east MSP Ross Thomson added: "Reports of these thefts follow hot on the heels of the shocking images of young people dangling from cranes on the AWPR after having accessed the site.
"Incidents such as these are alarming – and could result in a serious accident.
"There is also the costs of damage and loss of property to consider.
"Major construction sites like the AWPR should be absolutely secure, and the safety of workers must be paramount."
A spokeswoman for Transport Scotland said: "The contractor for the AWPR/B-T project has confirmed that a number of items have been taken from the site.
"The contractor has also confirmed it is reviewing its security arrangements.
"Police Scotland is aware and investigating."
Anyone with information should call 101.