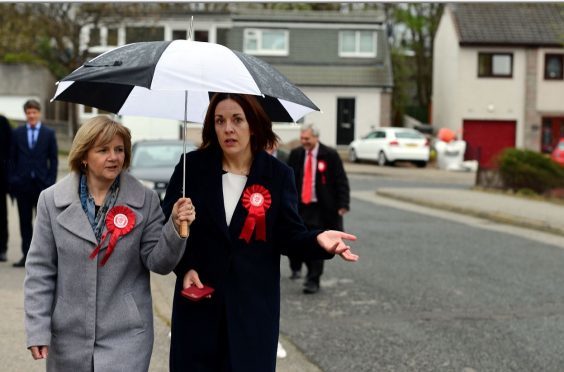 The keys to the power of Aberdeen City Council now lie with the former ruling Labour group – after the Liberal Democrats dramatically refused to enter any coalition.
A week after votes were cast, the Granite City is still in political stalemate with no party able to seize power, though senior sources say a decision may finally be made today.
The SNP, who won 19 seats – just four short of a majority – are understood to be seeking a deal with former rivals Labour to form a 28-member block able to make decisions at the town house.
But Conservative group leader Douglas Lumsden said his group is keen to re-establish the Labour, Tory, Independent alliance – but this time with Labour as the junior partners.
The SNP and Conservatives have refused to work together.
And the Lib Dems – who had been seen as kingmakers with four members – have ruled out any form of alliance, deciding to make decisions on an issue-by-issue basis.
Without Labour, the only way the SNP can now seize power would be through a minority administration, which could be defeated by the other parties.
But internal wrangling within the Labour group has slowed a decision – with councillors split on which potential group to back.
A Labour source said that with many of the party's "old guard" – Willie Young, Angela Taylor, Ramsay Milne, and Neil Cooney – out of the town house, sympathy for the nationalists had increased.
It is further understood that some in Labour would not want to ally with either and would prefer to be in opposition to a minority SNP administration.
Any decision would likely have to be approved by the party's National Executive Committee (NEC).
Liberal Democrat group leader Ian Yuill held talks with the other party leaders on Wednesday in an attempt to find a "new way" where all 45 councillors would work collectively in the town house.
But the effort failed with Mr Yuill admitting there had not been "much enthusiasm" for the idea, and now the Liberal Democrats have ruled out entering any coalition.
He said: "The Liberal Democrats believe we can best serve our constituents and Aberdeen by not joining any coalition. We will instead consider every issue before the council on its merits on a case-by-case basis.
"The Liberal Democrats will provide constructive opposition to whatever administration is formed. We will continue to make the positive case for Liberal Democrat policies and priorities."
SNP group leader Stephen Flynn said common ground could not be reached at the meeting and reiterated that he would not work with the Tories.
"Everyone will be aware that there are two options available to the SNP at this time. One is the Labour Party and one is a minority administration. We are exploring both.
"Discussions are ongoing and what we are focused on is what is best for Aberdeen."
Last night Conservative group leader Douglas Lumsden said he was keen to form a new administration.
He said: "We are still talking with groups, we know now where the Liberal Democrats stand and the SNP, but we are still trying to get an administration of ourselves, Labour and independents.
"The other option seems to be either a SNP and Labour administration, which seems unlikely, or a minority SNP one which would be a disaster for the city frankly.
"One thing I would say is that if we are working with Labour it won't just be a continuation of the last administration.
"We have a lot of new faces and we would be keen to look to ways to make the council better."
Independent Marie Boulton has always ruled out a coalition with the SNP and last night said she hoped the previous Labour, Conservative, independent administration could be continued.
She said: "I think we could work together again. We need to have a strong message coming out of the city."
"In five years we did not fall out, unlike the Lib Dems and the SNP (in 2007-12)."
Labour leader Jenny Laing did not respond to requests for comment.