Contractors rebuilding a historic Aberdeenshire railway station destroyed in a fire two years ago have discovered historic newspapers hidden inside its walls.
The B-listed Ballater Old Royal Station was engulfed in a massive blaze on May 12, 2015.
More than 50 firefighters battled the flames at the wooden station for six hours, and although a great deal of the Victorian building was burned beyond repair, the emergency services were able to save a royal carriage and part of the royal waiting room.
The building had been used by Visit Scotland for 15 years as a visitor centre, restaurant, museum and clothes shop before the tragic events two years ago.
Aberdeenshire Council is currently carrying out a £3million redevelopment of the site to transform it into a community facility and square.
And yesterday staff working on the ambitious project revealed a secret stash of newspapers from the year 1900, which were found crumpled up within its walls.
The 117-year-old papers are in a remarkably good condition despite the disastrous fire, and offer a glimpse into the past.
The Daily Mail, Standard and Times front pages all feature news items that could just as easily be printed today, including analysis of a general election, adverts for hair restorer and more.
Janelle Clark, Aberdeenshire Council's Marr Area manager, said: "We don't actually know why they're there, we've made some guesses – they may have been left there for posterity because it was 1900, the turn of the century, or it could have been put there by workmen as part of insulation, it's really anyone's guess."
Project manager Craig Matheson is in charge of restoring the train station to its former glory.
He said: "We spent a lot of time liaising with Historic Scotland getting all of our planning approvals and funding approvals in place, so it's nice to see the construction coming together."
The surviving newspapers have now been carefully flattened out and restored by specialists, and it is hoped that they could be put on display at the station when it is fully restored and reopened next year.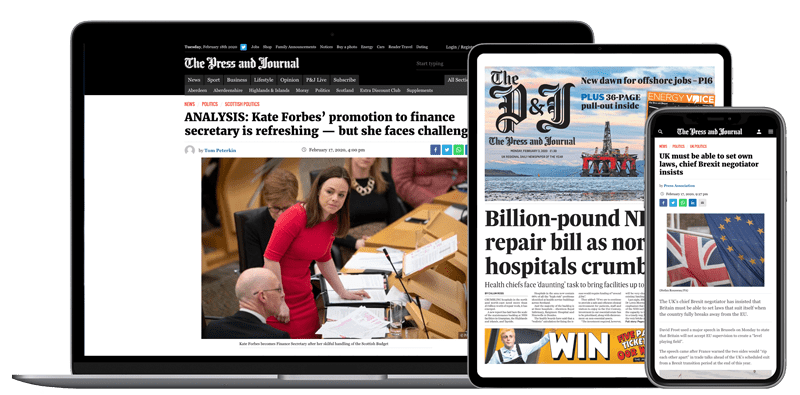 Help support quality local journalism … become a digital subscriber to The Press and Journal
For as little as £5.99 a month you can access all of our content, including Premium articles.
Subscribe