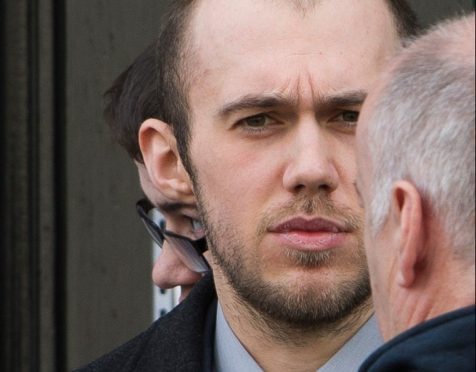 A university student who killed a pensioner in a head-on collision after driving dangerously was jailed four years and two months today.
James Hilton went onto the wrong side of the road at a bend before the fatal crash that claimed the life of a retired farmer.
A judge told Hilton: "On Saturday, March 7 2015 Patrick Pirie drove to the farmer's mart in Huntly. His wife expected him home in the late afternoon. He never arrived. He died as a result of a head-on collision between his car and your car."
Speeding driver crashed into retired farmer head on after trying to catch up with friend's car
Lord Woolman said that immediately before the crash Hilton, 25, of Grandholm Crescent, Bridge of Don, had been travelling in a convoy with others.
"Your three vehicles were causing concern to other road users. They thought you were driving too fast, too close together and you were keen to overtake the vehicles in front," he said.
Lord Woolman told Hilton that the risk of a catastrophic accident was "obvious" and added: "Mr Pirie had no chance of avoiding the collision."
He added: "This is a tragic case for everyone involved. Mr Pirie was a retired farmer aged 81. He was married with four grown children. Your crime casts a terrible shadow over them. The harm caused by an offence that causes a person's death is immeasurable."
Lord Woolman told Hilton that he would have to live with the knowledge that he had taken a life.
The judge said he took account of Hilton's youth, the serious injury he suffered in the collision, his regret and previous good character.
But he added: "My duty is to discourage others from such irresponsible conduct. I must also mark the gravity of what happened."
He told Hilton that he would have jailed him for four years and seven months for the offence, but for his guilty plea. He also banned him from driving for nine years and until he passes a fresh test.
Hilton had earlier admitted causing the death of Mr Pirie, of McLennan Place, Dufftown, Banffshire, on the A920 road by driving dangerously.
He drove at excessive speed, overtook approaching a bend when it was not safe to do so and his vision was obscured, went into the opposing carriageway and drove into the path of Mr Pirie's car.
The pensioner died of his injuries a short time later at Dr Gray's Hospital, Elgin, in Moray.
The court heard that Hilton, who had a previous conviction for speeding which had resulted in a fine of £300, was working part time as a waiter while pursuing his university studies.
He was driving a Renault Twingo and had visited his grandfather in hospital in Aberlour before colliding with Mr Pirie's Fiesta.
One witness saw the vehicles collide head on and there was a cloud of dust and the Fiesta was raised in the air.
A woman who stopped after the crash saw that Hilton was injured and he asked her if anyone else was involved. She told him there were three cars and he started to cry.
Hilton was later interviewed by police but maintained at the time that he could not have been at fault for the collision.
Defence counsel Tony Lenehan told Lord Woolman at the High Court in Edinburgh that he would not pursue alternatives to a custodial sentence for Hilton raised in background report.
He said: "He was at university at the time. The consequences of the event caused a gap, but in due course he completed his studies and is in employment.
"He is a young man held in high regard by his friends, his colleagues and his family," said the defence counsel. He said Hilton had shown "genuine remorse".