A man who engaged in a four and a half hour standoff with police from a city centre roof was only coaxed down after being offered a Burger King meal and packet of cigarettes.
Corey Gibb clambered up onto the roof of Gordon Bakery on Dee Street and refused to come down after cops spotted him in an Aberdeen bank.
The 21-year-old had been away to cash his wages in at the Bank of Scotland on Union Street when officers spotted him and realised a warrant was currently out for his arrest.
After climbing up onto the building, which was roughly 30ft high, Gibb refused to come down, despite the best efforts of the police and fire service.
And yesterday Aberdeen Sheriff Court heard officers were only able to convince him to give himself up with the promise of a Burger King meal.
Gibb admitted hindering the duties of two detective constables on Friday last week when he appeared from custody.
Procurator fiscal Jamie Dunbar said Gibb remained on the roof for more than four hours.
He said police, ambulance and a fire service team were called to the scene at a "considerable cost to the public purse."
Dee Street and the surrounding area was cordoned off for most of the duration of the incident.
He added Gibb was eventually convinced to come down by the negotiators after he was offered "a meal from burger king, cigarettes and a phone call".
He said police worked with the fire service and their height appliance vehicle to take Gibb down to street level, before he was arrested.
He remained in custody over the weekend.
Representing Gibb, defence agent Iain Hingston said his client had been in the bank because he had just been paid for the first time from his new job as a labourer, but added "what he did was ridiculous".
Mr Hingston said: "He is a very personable young man that can take advice, but he also has the ability to lose the plot, and that is clearly what happened here."
He told the court that Gibb works hard, undertaking 12 to 14 hour days at his job.
But he said he has now risked "throwing this away because his face was all over the media at the weekend" following the incident.
Mr Hingston appealed to Sheriff Morag McLaughlin to grant his client bail, however this was denied.
He was remanded in custody, and will reappear in court next month.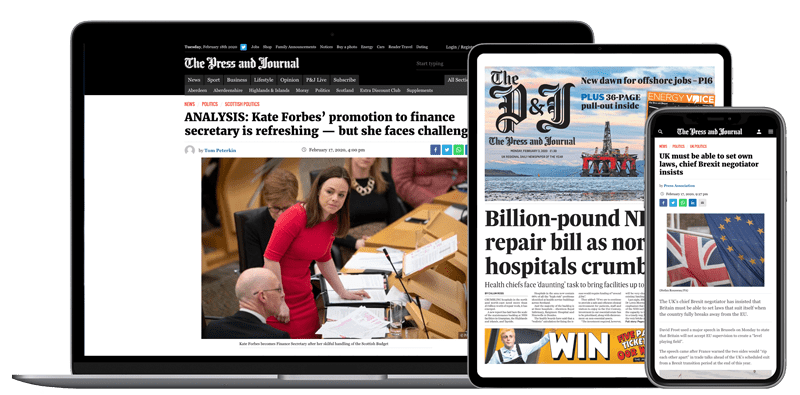 Help support quality local journalism … become a digital subscriber to The Press and Journal
For as little as £5.99 a month you can access all of our content, including Premium articles.
Subscribe