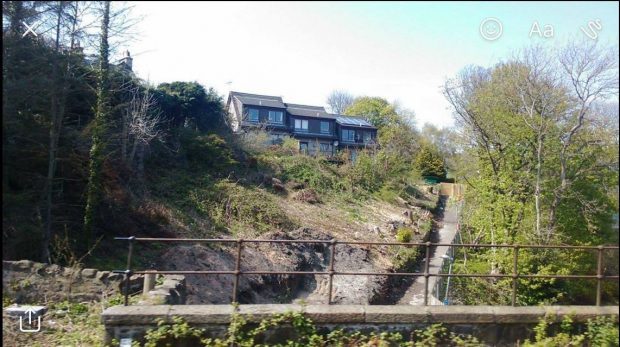 A woman at the centre of a land repair row has broken her silence after councillors voted down attempts to recover the costs of repairing the wall on Wellington Brae.
Pauline Gerrard's family owns a small section of land at the Ferryhill lane – which was controversially allocated more than £200,000 in public money without any scrutiny from any council committee until the project was discovered last month.
The council had approached former finance convener Willie Young as the landowner seeking to begin the wall repair and tree cutting works – which was to be funded by cycling body Sustrans.
But the local authority suspended the project at the end of April and it has since emerged that most of the affected land is owned by Mr Young's father David.
Willie Young has always denied any wrongdoing and previously produced legal advice showing he had "no conflict of interest".
But last night Ms Gerrard said she had only been informed of the work shortly before it began and never gave any permission.
She said: "There is a lot of focus given to the wall but I think that the beautiful trees that have been there for 200 years being cut down is really heartbreaking.
"Why was Willie Young contacted as the landowner when his dad owns the land? And why weren't we contacted? There are still so many unanswered questions."
Yesterday's infrastructure committee met for the council to officially allow the works to proceed.
But an amendment by Liberal Democrat Steve Delaney asked for officers to instigate recovering liable costs from the landowner.
This was rejected by nine votes to eight with administration councillors voting to accept the Sustrans grant to proceed.
SNP group leader Stephen Flynn said: "I've once again been left stunned by what we have seen in the Town House today – Labour and Conservative councillors, have stated that we should not seek to recover costs from the land owner for any damage for which they are liable in relation to Wellington Brae.
"It would certainly be my hope that there are no ulterior motives at play here – we have a steadfast duty to stand up for public money."
Committee convener Yvonne Allan said that a council probe was underway adding: "The amendment put forward by Councillor Delaney would likely lead to more delay and add to the costs of the project and frustrate the process further."
Vice convener Brett Hunt added that it was "disappointing" that the SNP were "attempting to turn another decision the people of Aberdeen want to see into a political point scoring match."
Willie Young was unavailable for comment.