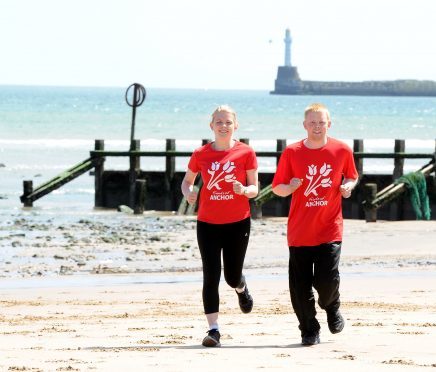 A brother and sister duo have raised nearly £5,000 in memory of their mum.
Kim Barron and Gregor Littlejohn crossed the finish line side-by-side at two of the north-east's biggest 10K races to raise cash for Friends of Anchor – at the request of their mother, Anne Littlejohn.
Mrs Littlejohn learned first hand about the support the charity provides during her seven-year battle with bone cancer, which she eventually lost in March.
During her fight, she took part in the charity's hugely popular Courage on the Catwalk fashion show to help raise awareness and vital funds – with the models in 2015 raising more than £72,000.
And before she died, the 56-year-old from Cuminestown made it clear to her two children that she wanted them to continue supporting the cause in her memory.
The siblings signed up for Run Balmoral and Baker Hughes, and smashed their initial fundraising target of £250 by raising nearly £5,000.
Mrs Barron, 25, of Turriff, said: "One of mum's last wishes for us, as a family, was to play our part in raising funds for Friends of Anchor. Not only did the charity support my mum during her treatment, they also gave her the most amazing experience of being a Courage on the Catwalk model in 2015.
"Just one day after my mum devastatingly passed away, I convinced my brother to take on a running challenge to keep her memory alive and fulfil her wish.
"Neither of us are runners, so to run two 10Ks was quite a challenge for us, but we wanted to give something back to Friends of Anchor to go some way in helping others in the north-east facing a cancer diagnosis."
She said the challenge had given both her and Mr Littlejohn, 23, a "positive focus" as they came to terms with losing their mum.
Rhona Miller, from Friends of Anchor, said: "Anne was a really inspirational woman who fought this disease so bravely. The sum raised is a testament to Anne and the incredible efforts of Kim and Gregor.
"Every penny that Kim and Gregor raised has gone directly to our biggest fundraising campaign, Dream Big, to recruit a world-class cancer research team to the north-east."