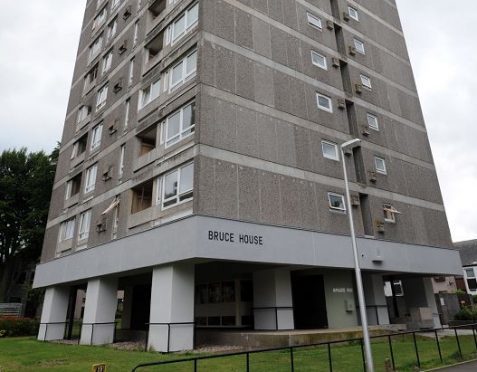 Aberdeen City Council is considering a review of safety in the city's tower blocks after a blaze ripped through a London skyscraper.
People were left trapped in the burning 24-storey Grenfell Tower, in north Kensington, screaming for help and yelling for their children to be saved, according to reports.
And yesterday terrified residents of the Granite City's 12-storey Bruce House said they were glad that their block was not clad like 18 of Aberdeen's 59 high rises.
But council chiefs insisted that high rises covered in cladding complied with all relevant legislation although a spokeswoman added the authority would be keeping a "close eye" on the investigation in London.
Chartered surveyor and fire expert Arnold Tarling, from Hindwoods, said the cladding process can create a 25mm-30mm cavity between the cladding and the insulation.
Jennifer Rodgers, 48, has lived on the 11th floor of Bruce House for the past 10 years said she watched with "shock and horror" as the news from London unfolded.
She said: "I'm just so glad that this block is just fully concrete with no cladding, fire is one of my biggest fears living here."
Brenda Michell, 48, said: "I don't feel safe here now. I was watching the TV on London all morning and I don't want to live anywhere where there is that risk of fire."
But Natasha Beattie, 27, said: "I have lived in skyscrapers all my life and I think they're very safe generally."
Hazlehead councillor Martin Greig, said: "It is clearly now time to seek reassurance about the precautions in place in similar high rises and skyscrapers across the country – including those in Aberdeen."
An Aberdeen City Council spokeswoman said: "All of our over-cladded buildings were designed to comply with Scottish building regulations, and have been subject to building warrant approval, detailed design and specifications showing compliance with regulations and an inspection regime.
"It is important to note that all materials employed in the over-cladding are fire resistant and fire stops are incorporated to cavities at party walls, party floors and around windows, which encloses the cavity area to further prevent any risk of fire spreading across the surface of the building. We will keep a close eye on the investigation into the London fire and check our multi storeys again if necessary.
"We have also checked the installation and maintenance of all of our fire alarms and all checks and tests of fire alarm systems in our multi-storeys are currently up to date. Our fire alarms are checked and tested on a weekly basis."
Assistant chief officer David McGown, of the Scottish Fire and Rescue Service, said: "The Scottish Fire and Rescue Service works closely with local authorities and housing associations to ensure the safety of occupants in high rise buildings."