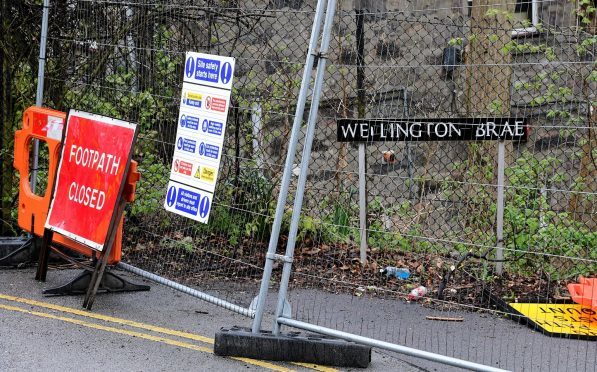 Work has restarted on a controversial land repair project in Aberdeen, which was at the centre of a political storm involving more than £200,000 of public money.
A major row erupted within Aberdeen City Council in April after it emerged large-scale repairs, funded by a grant from cycling charity Sustrans, had been allocated at Wellington Brae without being put to a council committee for approval.
The local authority suspended the project and launched an investigation when it emerged they had approached former finance convener Willie Young as the landowner for permission to start construction on the scheme.
Council refuse to reveal Wellington Brae information despite FOI request
However, it has since been revealed the land is owned by Mr Young's father David.
Mr Young, a former councillor for Bridge of Don, has continually denied any wrongdoing, and produced legal advice from a council officer which stated there had been "no conflict of interest" in the matter.
In May, Audit Scotland ruled out conducting a probe into the matter, and councillors voted down attempts to recover the costs of repairs to the land, including sizeable repairs to a wall, from the landowner.
Instead, councillors on the infrastructure committee voted to back the work using the Sustrans grant following formal approval from Mr Young's father.
Yesterday, workers could be seen with spades in the ground as the suspension of the controversial repairs was lifted.
Stephen Flynn, the leader of the SNP group at Aberdeen City Council, voted in favour of requiring the landowner to pay for the repairs, and raised questions over why public cash should be used to conduct repairs on private land.
Mr Flynn said: "I'm pleased to see that work has resumed at Wellington Brae.
"I have no issue with the work starting, but I strongly believe the council should attempt to recoup the costs from the landowner.
"The administration has chosen not to recoup the costs, and I strongly believe this is a decision they are going to regret."
A spokesman for Aberdeen City Council responded: "We have completed an access agreement for the Wellington Brae cycleway project.
"This agreement will enable work to proceed as agreed at the May 24 meeting of the Communities, Housing and Infrastructure committee."
Mr Young declined to comment last night.