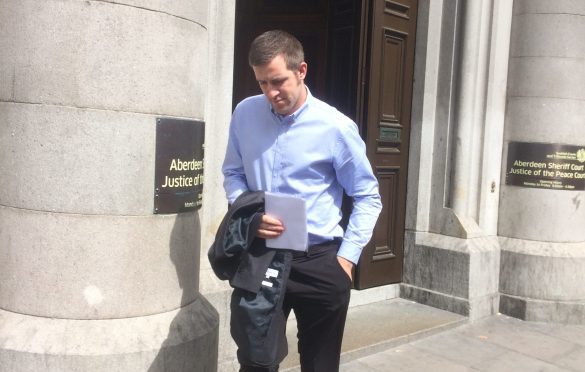 A north-east man stole lighter fluid from a fire eater to set a window alight after he saw the object of his affections kissing a love rival.
Craig Paterson, 29, had been thrown out of a party at Mearns Street, Aberdeen for kicking the balcony and punching guest, Christopher Cockerill, after seeing the woman he was pursuing with another man.
He repeatedly punched the front door from the outside, before picking up a can of lighter fluid left by a fire eater, who had earlier been entertaining guests.
He subsequently poured it onto a window and set it alight.
Fiscal depute Laura Begg said: "It was the early hours of the morning and most of the guests had left. There were about five or so people still in attendance. The accused is known to the owner of the flat.
"The party was dying down. The owner was kissing a female and the accused saw this. The accused was interested in her and he became angry. He slammed a number of doors in the property and began kicking the metal railing on the balcony.
"Due to his conduct, the other people asked him to leave. He continued to act in an aggressive manner."
A struggle ensued in which Paterson hit Mr Cockerill and was then thrown out, before he began punching the door and then started the fire.
Ms Begg added: "It was alight for about 60 seconds before it extinguished itself."
Police officers arrived to arrest the drunken Paterson outside the flat on October 30 last year.
Paterson, of Towerview Walk, Peterculter, pleaded guilty to assault, behaving in a threatening manner, wilful fire raising, stealing lighter fluid and failing to turn up to court at an earlier hearing.
Defence agent Robert Anderson said: "He has paid £140 for repairs. He was suffering depression. He has since sought help and has not drunk to excess."
Sheriff Graham Napier deferred sentence until July 31 for criminal justice social work reports.