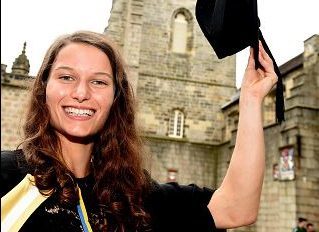 A north-east woman will sprint towards the British Athletics Championship just a week after picking up a degree.
Zoey Clark collected a first-class honours degree in chemical engineering from Aberdeen University.
And the 22-year-old runner now plans to take a year out to focus on her athletics career.
She said: "I do 400-metre relay races.
"I need to finish in the top two at the British Athletics Championships in Birmingham to be automatically picked for the Commonwealth Games [in 2018].
"I'm predicted to do that, but there are a lot of good people so it's all about how you perform on the day.
"However, I'm positive going into it."
The former Aberdeen Grammar School pupil was full of praise for the sporting facilities on offer at the university.
She said: "They are definitely the best in Scotland, and particularly at Aberdeen Sports Village."
"It feels strange to be here at the end of a five-year course knowing that this is the last time we could all be together.
"I really enjoyed some of the group work we did in the last two years.
"I aim to start looking for jobs in engineering over the next year.
"But I have decided to priorities athletics for now because you can come back to engineering, but you can't come back to athletics."