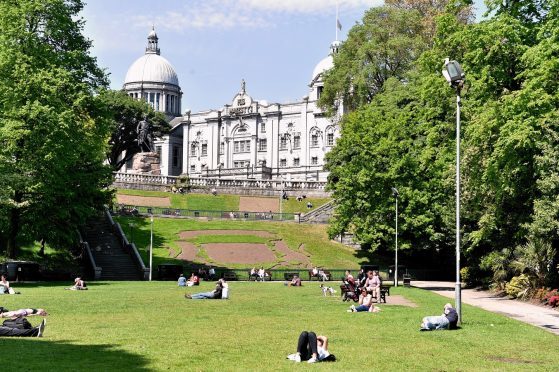 Part of the revamp of Union Terrace Gardens should be urgently brought forward after another fatality near an iconic city centre bridge, a councillor has urged.
Ambitious plans are on the table to fix glass barriers nearly 8ft tall along the length of Union Bridge as part of the £20million scheme – approved in principle by the council last year.
But Bill Cormie, who has been calling for better security measures at the city centre spot for several years, said they now needed to be installed rapidly.
Yesterday, a man died after falling onto Denburn Road at around 4.15am – causing numerous traffic delays.
Union Bridge has been the site of numerous other deaths over many years with 15 incidents of people jumping or threatening to jump in 2013 alone.
Full planning permission is still required for the whole project before work would start on the new obstacles – which isn't expected until after the summer recess.
Temporary metal gates have been put in place as a stop=gap measure but many have complained that they are "unsightly" at the picturesque part of Union Street.
Rosemount and Midstocket councillor Mr Cormie, whose ward includes the gardens, has now said the council must move forward with a "permanent" solution.
A motion he and former councillor Jim Kiddie's submitted to council for spikes on the bridge was unanimously backed in August, 2013.
It has never been implemented.
Last night Mr Cormie said that now the plans must be moved forward, both to prevent more deaths and to boost the city's tourist draw.
He said: "Nearly four years ago myself and former councillor Kiddie had unanimous approval for having measures installed on the bridge that would have retained its character and helped prevent the people going over it.
"But since then there have just been temporary measures installed and we hear that the permanent solution will be up for approval at the same time as the gardens.
"We just can't wait that long, there was very sadly another fatality this morning so this is urgent.
"These temporary barriers are also an eyesore. We are now entering tourist season and they just look tacky and spoil the view over the gardens which can be spectacular.
"I hope this is brought forward."
The scheme, which could cost as much as £250,000, would see a stainless steel parapet put in place at the historic B-listed bridge over Denburn Road.
Under the proposals, lampposts and vertical posts would support horizontal wires, to provide protection and lighting at the spot in an effort to prevent people falling.
The £20 million proposals to modernise the gardens, put forward by London Olympic park outfit LDA Design, include a new entrance plaza, lift access from Union Terrace, a "halo" lighting feature and community gardens alongside the rail track.
A previous attempt to add a safety barrier in 2015, under the same design, was rejected over fears the modern barrier would not fit in with the look of the bridge.
The 130ft bridge, spanning the Denburn Valley, dates back to 1801 and is the largest single-span granite arch in the world.
Liberal Democrat group leader Ian Yuill welcomed the idea of new barriers.
He said: "What is in place is a bit unsightly but it serves an important purpose.
"I would hope to have in place a more long-term solution is put in place quickly so the bridge can be safe and people can once again enjoy the view."
But Dustin Macdonald of the City Centre Community Council said that while the group supported the need for a barrier they didn't agree with the design.
He said: "We all understand there is a need here but we still don't agree with the design."
Councillor Marie Boulton who leads the City Centre Masterplan said: "My sympathy is obviously with this person and their family.
"I think the answer here is to put more money into services to help people and try and avoid these situations.
"If the work is approved then it should start pretty quickly and the site would be sealed off."
For people who might be seeking some support in coping with life, the Samaritans offer a free and confidential emotional support service for those who are experiencing feelings of distress or despair.
Samaritans are available 24 hours a day, every day of the year, on telephone number 116 123.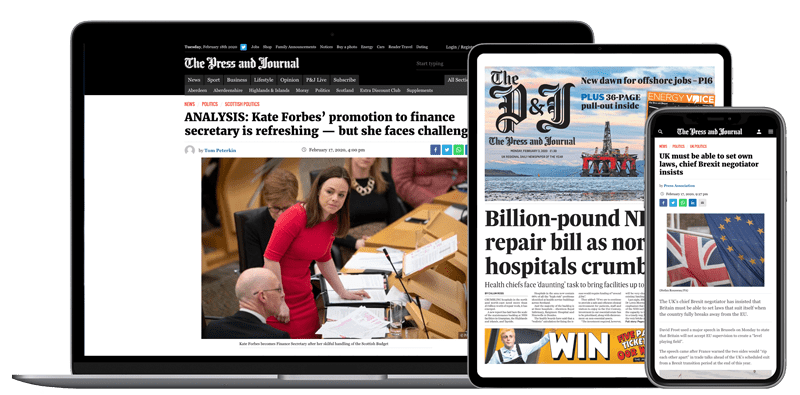 Help support quality local journalism … become a digital subscriber to The Press and Journal
For as little as £5.99 a month you can access all of our content, including Premium articles.
Subscribe