The city council is considering installing sprinkler systems in tower blocks across Aberdeen as fire safety comes under the spotlight.
Correspondence seen by the Press and Journal shows senior council officers are investigating the feasibility of putting the emergency measures into bin storage areas – a common target for fire-raisers.
But critics said such protections should have been in place "from the start".
Two years ago, terrified residents of Torry's Grampian Court were taken to hospital after a major blaze started deliberately in the high rise's bin room.
The June 2015 fire resulted in four people, including a baby girl, being hospitalised with smoke inhalation after youths set the blaze and fled.
Just days later there was another blaze reported in the bin room of Seaton's Promenade Court and in January this year a more minor fire was reported in the refuse area of Linksfield Court.
The Grenfell Tower blaze in London, which claimed the lives of at least 79 people, has focused attention on the safety of high-rise blocks – though none in Scotland have the exterior cladding blamed for the severity of that deadly inferno.
Aberdeen has a total of 59 tower blocks and it is unclear how much installing the systems could cost or when it would be complete.
Last night a senior councillor welcomed the news but said the measures should have been fitted "from the start".
Hazlehead, Queens Cross and Ashley councillor Martin Greig, former chairman of Grampian Community Safety Partnership, said: "It is worthwhile giving special attention to the safety of bin stores because they are in such close proximity to people's homes.
"There have been reports of misbehaviour in storage areas. Since these places are vulnerable, all possible efforts should be made to make them as safe as possible.
"Precautionary actions would be helpful to give residents further protection from potential dangers.
"To avoid risks and hazards, refuse needs to be stored in the bin containers. Unfortunately, there are times when refuse is discarded on the ground or near the bins which is a safety danger. Dumped furniture and other large items need to be dealt with as a priority.
"A basic safety measure like this should have been built in from the start.
"The costs should be clarified so that we can move forward"
Torry and Ferryhill councillor Catriona Mackenzie met Grampian Court residents yesterday as part of a fire brigade briefing to tower block residents.
She said: "Listening to the concerns of residents at the meeting there were issues raised around that fire two years ago.
"The feasibility of sprinkler systems in the bin room raised by officers was raised and given what there has been in the news recently they obviously have major concerns about fire now.
"If a sprinkler system is the best solution and the council think this is a good way to protect residents of tower blocks then absolutely it is something that should be investigated."
A Scottish Fire and Rescue (SFRS) spokesman said: "The Scottish Government has ordered a review of fire legislation and building regulations which SFRS will contribute towards. The provision of sprinklers will be considered as part of this.
"The Scottish Fire and Rescue Service works closely with Local Authorities and Housing Associations to help ensure the safety of occupants in high rise buildings.
"The SFRS is here to support communities most notably through our free home fire safety visits."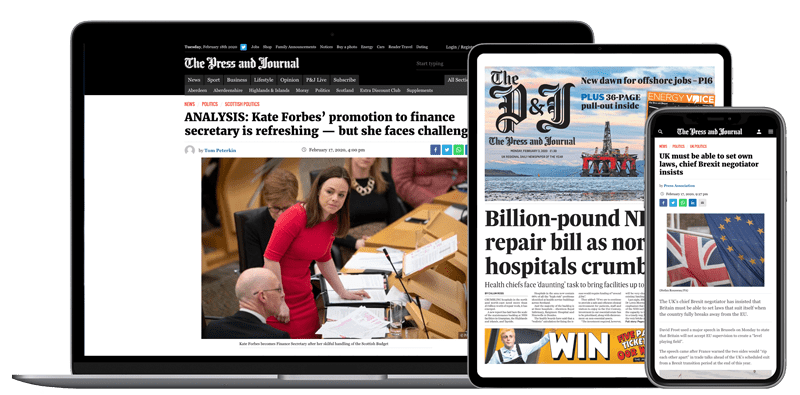 Help support quality local journalism … become a digital subscriber to The Press and Journal
For as little as £5.99 a month you can access all of our content, including Premium articles.
Subscribe