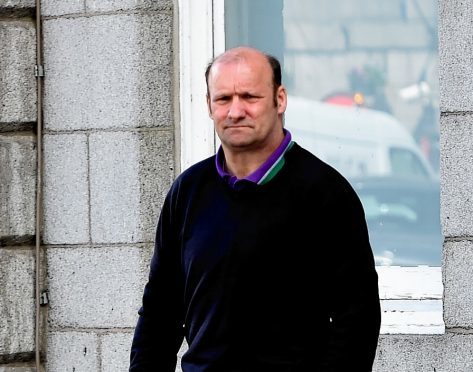 The former boyfriend of an alleged fraudster has told a court she "bought" him a car – before demanding he pay for it.
Victor Somers says he never even got to drive the motor bought for him by Cheryl Mitchell, which she said would "change his life".
Just months later, the 55-year-old said he discovered various bank accounts had been set up in his name as creditors started hounding him for payments.
Mitchell is on trial at Aberdeen Sheriff Court accused of 27 charges of fraud, including scamming pensioners out of £60,000 over a three-month period last year.
The 34-year-old denies the charges.
Yesterday, her former boyfriend told the court he had been duped three times over a seven-year period by Mitchell.
Mr Somers, 55, said that early last year, she arrived at his home in Aberdeen to ask him to go on a last-minute holiday to Bulgaria.
He told the court: "She told me she had booked a holiday with a friend and the friend could not manage it because she had to go to be with her relatives.
"She said she wanted me to go, and that it was all paid for and all I had to do was get currency.
"I kept telling her no but she insisted."
Mr Somers added eventually gave in, and paid just under £400 for holiday money – which never arrived.
The court heard the pair never went on holiday.
Defence advocate Stephen Hughes accused Mr Somers of "self-delusion" and suggested he had never been in a relationship with Mitchell.
But Mr Somers – who previously told the court he gave Mitchell £950 of his redundancy package before realising she was living with her husband at the time – insisted they had been a couple, and talking of moving in together.
He said that in another incident last year, Mitchell turned up at his door and told him she had bought him a car.
He never got to drive it, but paid £11,600 towards it.
He also said that during the summer, he kept receiving letters from banks demanding payments for bank accounts he had not set up.
He told the jury he froze the accounts in August and contacted the fraud team – but when Mitchell found out, she phoned the bank and demanded it be reversed.
Recordings of the telephone calls were played to the jury, with Mitchell first telling the customer advisors she was Mr Somers's girlfriend, then his sister, and that he had made a mistake.
Mr Somers admitted he was there when the calls were made, and that he "should have" stopped her sooner.
Fiscal depute Alan Townsend also showed Mr Somers numerous applications for loans and accounts, which he said he did not make.
Mr Townsend asked him: "Who do you believe made these?"
He replied: "Cheryl Mitchell."
The court previously heard the pair met in 2008 and entered a relationship the following year.
When Mr Somers was made redundant from his job at Glencraft in November 2009, he was given a payment of around £7,000.
He says Mitchell asked for money to enable them to move in together in Oldmeldrum, and he handed over cash before discovering she lived with her husband.
The relationship ended, but they later rekindled the romance and in 2013 she asked him for £4,000 for them to move into her home in Inverurie.
He said he took out a loan of this amount but when he got a key to the property he discovered wedding anniversary cards.
Mitchell's defence advocate Mr Hughes accused him of self-delusion.
He said: "You claimed you stayed overnight at her house in Inverurie but this didn't happen, did it?"
Mr Somers replied: "Yes it did."
Mr Hughes: "You said you were in a relationship with her but you weren't, were you?"
Mr Somers replied: "I would say that I was."
Mr Hughes then said: "That is your self-delusion, isn't it?"
Mr Somers made no reply.
The trial, before Sheriff Alison Stirling, continues.