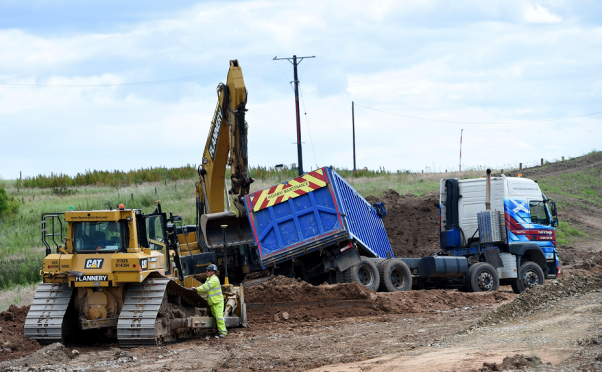 Safety concerns surrounding Aberdeen's bypass works have been heightened after another accident involving a construction vehicle – the third in just 10 days.
Motorists on the A90 Aberdeen to Ellon road yesterday reported a blue contractor's lorry which had fallen down an embankment on the Aberdeen Western Peripheral Route (AWPR), about a mile north of Aberdeen.
The incident is believed to have taken place at around lunchtime. Last night it remained unclear whether anyone was injured as a result.
On the morning of June 23, a large rear-tipping dump truck weighing several tonnes tipped onto its side near Kirkhill, Dyce.
And just a day later, a 35-year-old was taken to Aberdeen Royal Infirmary after an incident involving an excavator near Craibstone.
One AWPR worker, who did not wish to be named, said: "It's getting very shocking. The attitudes towards safety are really bad.
"It's scary, and it's making a lot of the guys pretty worried."
A spokesman for Transport Scotland said that an investigation was launched following the incident to determine what happened.
He said last night: "Aberdeen Roads Limited is aware of an incident which occurred on site today.
"We and our contractors regard safety as paramount.
"An investigation is underway and the contractor will ensure any lessons are learned, and appropriate action is taken."
Peter Chapman, North-East Conservative MSP said: "I think most people would be astonished at the number of accidents there have been on the AWPR site.
"It is only a matter of days since the last vehicle was reported to have tipped over.
"We have also seen break-ins, thefts and workers injured – all of which raise serious questions about health and safety on this project.
"There have also been numerous complaints from farmers and landowners, many of whom are at the end of their tether with delays to dealing with compensation claims.
"I will be contacting Aberdeen Roads Limited to discuss this latest incident and check that robust arrangements are in place to ensure the safety of workers."