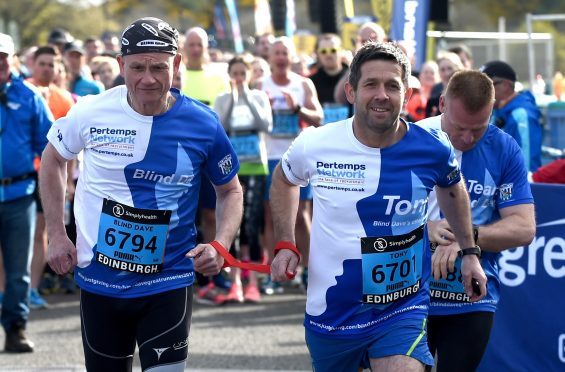 A runner who has been blind for the majority of his adult life is hoping to achieve a unique double in this year's inaugural Great Aberdeen Run.
Dave Heeley, 59, who likes to be affectionately known as 'Blind Dave', will undertake both the 10km and half marathon events.
This entails part of his extraordinary attempt to run all 25 of the 2017 Great Run series events before his 60th birthday later this year.
Aberdeen marks the 14th and most northerly stop on his tour, which began with the Great Edinburgh Winter Run in January this year.
A lifelong West Bromwich Albion fan, Mr Heeley is raising money for the Albion Foundation, a charity which supports blind football and disability sport as a whole.
He said: "I'm looking forward to running in Aberdeen. I've been there before because we have a great aunt who stays in the area and I know it's a lovely city.
"I enjoy running in different places and although I'm blind, my guide runners are very good at describing the various landmarks along the way."
Mr Heeley has retinitis pigmentosa, an inherited condition which destroys the light-sensitive cells at the back of the retina.
There is at present no cure for RP, which is one of the most common causes of blindness in young people and the working population.
Talking about his disability, he said: "There was a spell way back when I first realised I was going blind that I felt sorry for myself.
"I cried, moaned a lot and was generally looking for sympathy. But one day I snapped out of it and decided to start living life to the full."
Since then Dave has racked up a number of remarkable achievements, including completing seven marathons in seven days on seven different continents. He has also run and cycled from John O'Groats to Land's End and has taken part in the Marathon Des Sables, a six-day race through the Sahara Desert billed as the toughest foot race on earth.
"Blind Dave" will start and finish both of the Simplyhealth Great Aberdeen Run events on Union Street on August 27. His route will take him past a number of the city's landmarks, including the Beach Ballroom, Pittodrie and Marischal College.
He will be joined by thousands of competitors from as far afield as Austria, Canada and Singapore, with fewer than 500 places remaining for the 10k event.
To sign up, visit greatrun.org/Aberdeen