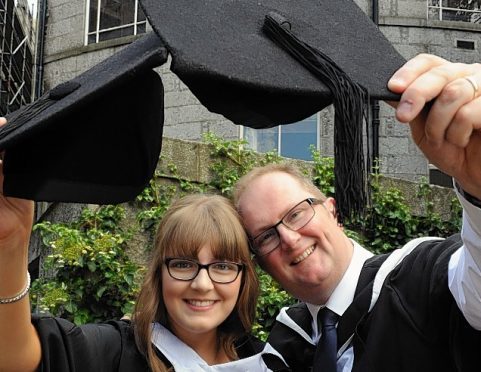 There will be a double celebration in an Aberdeen home today when a father and daughter graduate within 24 hours of each other.
The festivities will be exuberant in the Jackson household with 22-year-old Chloe Jackson graduating yesterday and her dad Billy doing likewise today from Robert Gordon University.
An only child, Miss Jackson received her BA (Hons) in International Hospitality Management in a ceremony at Her Majesty's Theatre, where she was proudly watched by her parents.
But the roles will be reversed today, when Miss Jackson is in the audience witnessing her dad collect his PGCert in Learning, Teaching and Assessment (Nursing and Midwifery).
Mr Jackson is now a lecturer in Occupational Health at RGU's School of Nursing and Midwifery after training originally as a nurse.
He said he plans to continue his studies to complete his M.Ed and added: "I'm very proud to have achieved my certificate which also comes with Fellowship of the Higher Academy of Education and registration with the Nursing and Midwifery Council as a nurse teacher.
"I was also very pleased to present my project at the Learning and Teaching Conference, Experience of Assessment and Feedback this year."
The pair said they enjoyed studying together and shared study space in the house.
Miss Jackson said: "We only had a few cross words!
"This week, when my dad and I both achieve a university qualification in the same year, will be a very momentous one which we'll celebrate with our family."
She revealed she was inspired to go to the university because of the support of her parents, and added: "Growing up, I saw my dad achieve good results from his university studies and this was when I identified that good things come from a university education.
"I faced a lot of challenges at school, but I have always had very strong support from my mum and dad.
"My confidence grew when I finished my final year at school and I went first to Dundee College where I gained an HND in Hospitality Management before moving to study at RGU.
"Hospitality has always been a passion of mine from a young age when I loved creating charity events and taking part in cooking competitions, so it was a natural progression for me.
"I've now been offered a Graduate Manager's position with Macdonald Hotels, so I am really excited about that."